BREAKING: Ex-colleague Records Himself Shooting 2 Journalists During Live Broadcast And Posts It On Twitter
Vester Lee Flanagan II, 41, a former TV reporter at WDBJ7 that went by on-air name Bryce Williams, killed a reporter and a cameraman during live broadcast.
Flanagan shot Reporter Alison Parker, 24, and cameraman Adam Ward, 27 during an interview with an official from the local chamber of commerce when there was the sudden sound of gunfire and screams. The camera tumbled to the ground, and producers at the local WDBJ7 news station cut off the broadcast, switching to a shocked-looking anchor in the studio.
Both reporters died at the scene. Flanagan also shot Vicki Gardner, the interviewee who is now in stable condition in the hospital.
During the killings, Flanagan recorded his attack GoPro style and then uploading the video to the internet. The video posted by Williams showed him approaching reporter Alison Parker while she interviewed a person live on air. Photographer Adam Ward could also be seen in the footage. The gun is then raised, but Parker is seemingly unaware, as she continues to ask the interviewee a question.
In a second video, Flanagan starts shooting, and Parker is seen running for shelter. Eight shots could be heard before the screen went black. An additional eight shots were then heard; this is presumably when Ward was shot.
He even live tweeted the horrible incident.
Around 11am, a Virginia state police patrol car equipped with a license plate reader identified Flanagan's vehicle on the Interstate 66 in Fauquier County. After a brief pursuit, Flanagan shot himself. He died in hospital two hours later.
In an interview, WDBJ7's station manager, Jeff Marks said "Vester was an unhappy man. We employed him as a reporter, and he had some talent in that respect and some experience, although he'd been out of the business for a while.
"He quickly gathered a reputation as someone who was difficult to work with," he added, saying that Flanagan would quickly "take offence". "Eventually after many incidents of his anger coming to the fore, we dismissed him. And he did not take that well, we had to call the police to escort him from the building."
Back in 2000, Flanagan filed a lawsuit in federal court, saying that he had been called a "monkey" by a producer at the WTWC television station in Florida, where he worked as a weekend news anchor and night reporter. He also claimed that his supervisor called black people lazy. The case was settled outside court.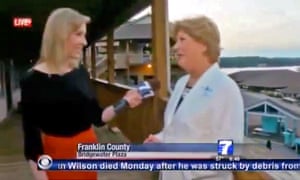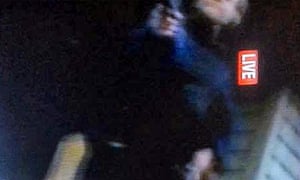 *Video is not included to pay respects to both victim's families