Basikal Lajak Rider Loses Control on Sharp Turn, Slams Into Parked Car & Hits Head On Sidewalk
Basikal lajak riders seem to be Malaysia's new biggest nuisance on the road as they've surpassed rempits as the number one thing you should avoid when driving in our country. What's worse is that many of them appear to be underage, placing lots of stress on road users to be extra aware of these kids, who shouldn't be allowed on highways and major thoroughfares in the first place.
But unfortunately, for some motorists, sometimes avoiding them isn't enough as basikal lajak riders can't seem to steer clear of trouble in general and sensible road users end up being in the victim at the wrong place at the wrong time.
The We are Malaysians Facebook page took to their timeline to showcase how a group of basikal lajak riders zoomed past a parked, stationary car. One of them, unable to make the sharp turn, ended up slamming into the side of the parked car before hitting his head hard on the sidewalk.
Nasib baik suparman xmampus, nanti salah keta tu… Kesian keta tu 😢😢😢

Posted by 我们是马来西亚人 We are Malaysians on Wednesday, October 30, 2019
We are Malaysians wrote, "Luckily the rider didn't die, or they would have blamed the car. I feel bad for the car."
Many netizens took to the comments section to sarcastically blame the car for being in the basikal lajak rider's way, as an insult to the parents of these dangerous bicyclists who would always find excuses for their children's reckless behaviour.
This comment goes, "The car driver is foolish. There are so many parking spaces but he purposefully parked there. Now he has to buy the rider a new bicycle."
Many in the comments section also spoke of the impact the boy took, especially to his head, hoping that it would serve as a lesson for him.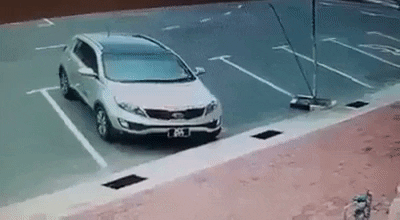 The basikal lajak riders quickly left the scene before the car owner returned, but imagine the owner's reaction when they discover that their hard-earned car was damaged by such mindless actions. 
We hope the boy faces the consequences of his actions before he puts his own life and others' at risk by continuing his basikal lajak activities.
We are Malaysian's posting has since garnered over 1,400 shares.
Lives have already been lost while others have been detained, but these kids are still recklessly riding these bikes through the streets.
What is it going to take for these kids to learn how dangerous basikal lajak racing is? 
Also read: After Viral 'Basikal Lajak' Case Where 8 Teens Died, Kids Are STILL Riding in Ampang