Asian vs Ang Moh Horror Films: Which is Scarier & What Are M'sians' Favourites?
The horror genre is something that appeals to many. After all, who doesn't love a good scare every once in a while? Although you may need to sleep with the lights on for the next couple of days, it's worth it! However, when it comes to this particular genre, the big question remains: Which is scarier? The Asian or Ang Moh horror genre? And is there a difference?
Well, in view of Halloween, we did some research and found a couple of differences you might be interested to know. Read on to find out more:
1. The "types" of ghosts
ASIAN HORROR 
When it comes to Asian horror, there's a wide array of Asian ghosts and spirits enough to make one wonder why there are so many "types" in Folklore to begin with. One thing's for sure, whether it is the
Thai Pob
(a cannibalistic ghost that feasts on human intestines) or the Indonesian
Wewe Gombel
(that kidnaps children using special appendages), they're all nightmare-inducing stuff. Let's not forget the infamous Pontianak with its long black hair and pale skin.
What's more, Asian ghosts tend to be more vengeful due to their bitter past life and/or horrible death.
WESTERN HORROR 
As for Western films, they have things like the
Poltergeist,
which will make you fear being sucked into your TV, quite literally. And while Western ghosts aren't as vengeful as Asian folklore spirits, they always "appear" when people move into new houses, which is pretty creepy as well.
2. Making a business out of black magic
ASIAN HORROR 
When it comes to black magic, there is no escaping talking about our very own Mona Fandey, the infamous black magic practitioner, which the movie
Dukun
is rumoured to be inspired by. Additionally, in Asian horror, spirits often appear due to the use of black magic for people's personal gain. Occasionally, these spirits can be used to 
take revenge or curse and haunt those who've wronged the one who summoned them.
The victims often died brutal and horrific deaths. Some even ended up with disfigured bodies and faces.
WESTERN HORROR 
In ang moh horror, however, while there are fewer examples when it comes to summoning evil spirits to do their bidding, western movies do use items like Ouija boards to summon spirits, but it usually ends badly for the user. In fact, many menacing demons and ghosts in western horror films are often "
invited
" by overly curious individuals through the use of
Ouija boards and other supernatural games, and it goes without saying, nothing good ever comes from that.
3. Old-fashioned demonic possessions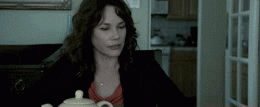 ASIAN HORROR 
While possessions and exorcisms aren't that common in Asian movies, black magic and devil worship are both recurrent themes. But of course, times are changing and Asia now has its own son of satan narrative with Joko Anwar's Pengabdi Setan (Satan's Slaves). Sounds quite menacing if you ask us!
WESTERN HORROR 
Western horror movies, on the other hand, are choc-a-block of demonic possessions and exorcisms. In fact, countless western films are based off real life demon possessions as well as exorcisms that happened in the past. Some of these films include 'The Exorcism of Emily Rose' which can probably keep you up for the next whole month, or year, depending on whether or not you actually have the guts to watch it.
4. Zombies now come in a variety of speeds
ASIAN HORROR 
Similar to demonic possessions, Asian horror has now evolved to featuring more zombies like in
Train to Busan
where the zombies can move rather quickly as compared to what we're usually used to. 
They run faster than me wei.
WESTERN HORROR 
Despite the speed that Asian zombies come with, western horror still wins in perfecting the zombie horror trope. This is evident in shows like The Walking Dead, which is already in its ninth season and still going strong. What's more, when it comes to makeup and costume, the ang moh zombies probably win for the freakiest looking flesh-eating creatures.
Sooo, which one is scarier?! Asian or Western horror???
Well, being Asian, we are naturally biased towards Asian horror and for good reason! Asian horror shows and films not only look terrifying and have tragic backstories, but they play with your mind and emotions as well. But then again, it really depends on your own preference!
Whichever you prefer, why not enjoy the best of both worlds? If you're someone who enjoys horror, one place you can check out for your horror fix is Astro. Astro has it all this month with movies and series for you to watch on demand. Set your own schedule and catch the best of both Asian AND Western horror films including:
Pengabdi Setan
HBO's Folklore
Halfworlds
Teenage Psychic
Demon's Path on Astro Original
True Blood
Ouija
Insidious: Chapter 3
The Exorcism of Emily Rose
Train to Busan
The Walking Dead
Poltergeist
Additionally, it's all available on on demand and Astro GO too! Find out more here!