Adorable Video Shows Mama Panda Wiggling Her Tummy to Rock Baby Panda to Sleep
Pandas are undoubtedly one of the most adorable creatures on the planet and everything they do just makes you want to cuddle them.
Cheng Da, an eight-year-old mother panda in China was caught on camera cradling her cub to sleep by wiggling her tummy.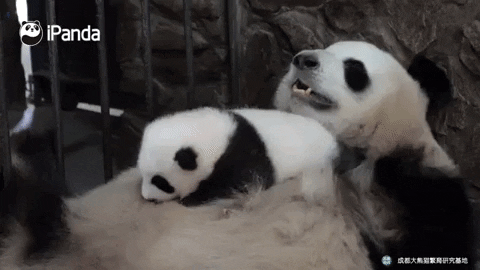 The adorable video posted on Daily Mail shows Cheng Da rocking her baby to sleep as the cub dozes off to the steady rhythm of her mother's wiggles.
She even has one of her legs rested between the cage's bars, probably for support, while she cradles her baby hands-free.
Cheng Da and her baby, Cheng Feng, live at the Chengdu Giant Panda Breeding Research Base. The two-month-old panda cub was born on 11th June this year, and is known for being quite a naughty little cub. She is known affectionately as the "crazy cub" at the centre.
Cheng Feng also has a twin sister, Cheng Lang, who is three and a half hours younger than her. Cheng Lang was the smallest cub to be born in the world. She weighed just 42.8 grams (1.5 ounces) and was lighter than a large egg.
She has since grown to nearly the same size as her sister Cheng Feng.
Here's the full video:
Aiyooo so cute!!
Also read: Tourists Caught on Camera Throwing Rocks at Giant Panda in Zoo to Wake It Up