7 Exciting Things To Do In Klang Valley
Instead of rotting at home or spend the weekend lazing on your bed, why not go out? Yes, i said GO OUT. Unplug for awhile and live life.
Here are some of the things you can consider doing in Klang Valley.
1. Breakout
Breakout is the first real life escape game to introduce character gameplay. The introduction of characters enhance gameplay strategy among players, creating a more intense atmosphere where decision-making becomes another crucial part of the game. Each character comes with its own perks. Choose to be the Lightbringer, Scholar, Time Bender, Oracle, Lockmaster or Merchant.
Breakout Nu Sentral has a total of 7 rooms to choose from while the one in Avenue K has a different set of 5 rooms. Each ranges up to 45 mins per game and you can enter in a group of 2 to 8 people.
Is it just me or do their posters resemble Bioshock a little? and it's very amazingly made!
Address: Level 4 (L4-09A) Nu Sentral, Jalan Tun Sambathan, 50470, Kuala Lumpur / Avenue K, L2-16 (Level 2), 156, Jalan Ampang, Kuala Lumpur
Operating Hours: 10AM -10PM (Monday – Sunday)
Price: Approx RM50 per person
For more information on Breakout, check them out here.
2. Sitting On The Ledge
Image source: KL Tower Facebook page
Base jumpers are leaping off the side of KL Tower on 2nd to 4th October. No, we're not asking you to join them (because we are sure it's a very dangerous sport) but experience being a part of it! Sit on the ledge of Malaysia's iconic KL Tower and get the thrill of looking down over 300 meters and onto people and cars that look like ants. Warning, not for the faint of heart.
Location: KL Tower
Date: 2-4 October
Interested? PM KL Tower's facebook page for more details here.
3. Tandem Paramotor
Looking for something more adventurous? Feel the wind rush through your hair and adrenaline pumping through your veins when you soar in the air by the Tandem Paramotor. You don't need any experience to ride this and rest assured you'll be guided by a professional. Just remember to book 7 days in advance!
And if Tandem Paramotor isn't your thing, Oxbold Extreme Sports offer helicopter rides, water sports and outdoor adventures you could explore.
Location: Pulau Indah, West Port of Klang, Selangor.
Operating hours: Starts at 2pm. Weekends only.
Price: RM300 per person
For more information on the Tandem Paramotor, click here.
Check out other extreme activities that Oxbold offer on their website here.
4. Putrajaya Challenge Park
Another extreme park worthy of checking out is this 30-hectare Challenge Park that is said to house some of the best extreme sport facilities in Asia. The three main attractions are an indoor rock wall climbing complex, a skate park. thrill park and mountain bike trails. The rock climbing complex covers 2,100 sq ft and goes as high as a five storey building, while the skate park is designed for skateboarding, inline skating and BMX biking. You can even hop on a bike to explore a 30-hectare park with terrain mountain trails! Entrance fee at RM6 for adults.
For more info, check out their Facebook page here.
5. Jump Street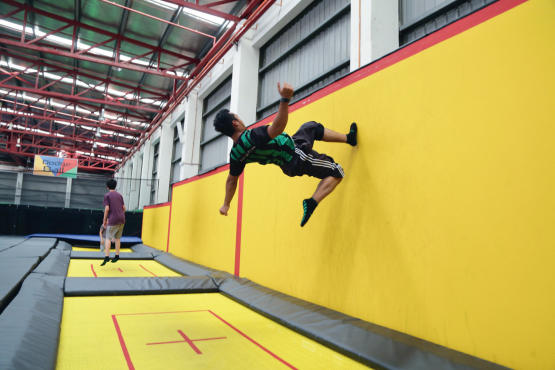 Your dreams are now realised in this room that is padded with hundreds of interconnected trampolines from the floor right up the walls and multiple jumping attractions at every venue – It doesn't matter if you've never jumped on a trampoline before – you've got to try Asia Largest Trampoline Parks and experience the thrill of Defying Gravity.
Play dodgeball with strangers, attempt somersaults and more!
Location: No 8A, Jalan 13/6, Seksyen 13, 46200, Petaling
Price: Starting at RM22 per hour + RM5 Grip Socks
For more info, check out their website here.
6. Flyboarding
Located at Marina Putrajaya, the Flyboard is the newest extreme sport with an accessory that is attached to a PWC (Personal Watercraft) giving it propulsion through air and water. Apparently, learning to ride one isn't hard either! So go get your gear on!

Location: Marina Putrajaya, No.1, Jalan P5/5, Presint 5, 62200 Putrajaya, Wilayah Persekutuan, Malaysia
Operating Hour: Friday – 9am to 7pm
Check out their Facebook page for more details here.
7. KLSE (KL Shooting Experience)
Wanna experience real life shooting instead of clicking on your left mouse button on a game of Counter Strike? Then KLSE is for you! One session lasts approximately 4 hours and is conducted in an air conditioned room so no worries about our blazing Malaysian sun.
Location: Menara TKSS, 206 Jalan Segambut, 51200 Kuala Lumpur, Malaysia
For more info check out their Facebook page here.