27 M'sians & 14 Indonesians Arrested for Rioting After M'sia Beat Indonesia in World Cup Qualifier
Football is a sport loved by many and you can say that it is a sport that people recognise worldwide, even in the farthest and most remote corners of the world.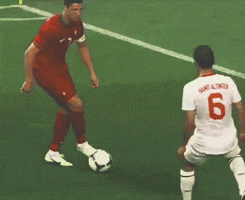 Just yesterday, the Harimau Malaya team was pitted against our neighbours, the Indonesian team. If you did not know or maybe you forgot, there's a rivalry between the supporters of both teams as they threw stones towards our team and the supporters during a match on 6th September in Jakarta.
The situation at that time was so bad that the authorities halted the match at the 69th-minute. We won the match and then chaos erupted in the stadium, with Malaysian fans being trapped in there along with our Youth and Sports Minister, Syed Saddiq.
Yesterday was a World Cup qualifier match, and this time the match was held on our home soil at Bukit Jalil Stadium.
According to Malay Mail, when Harimau Malaya scored their first goal, the Indonesian fans threw a fire-flare and when the game ended, they threw a second flare towards Malaysian fans.
But the trouble didn't stop there as a riot between fans of both teams that started at the E Entrance of Stadium Bukit Jalil. The Federal Reserve Unit had to control them and pull them apart. Some of the Indonesian supporters who wanted to avoid confrontation decided to stay in the stadium even after the match ended.
The Cheras police chief said that they detained about 27 Malaysian fans and 14 Indonesian fans during the incident. They were released after the documentation process was done, and investigations are still ongoing.
A total of about 85,000 people attended the match and some 6,000 of them were Indonesian fans.
What do you think about this? Tell us in the comments!
Also read: Angry Indonesian Football Fans Throw Lit Flares At M'sians After Losing To Harimau Malaya 2-0