Watch: Yet ANOTHER M'sian Motorcyclist Without Helmet Causes Accident After Running Red Light
Motorcyclists have always had a bad reputation in Malaysia, especially considering the fact that our country is home to rempits galore.
But just as we say about men, while not all of them are bad, there are those bad eggs that have given other Malaysian motorists a bad name.
For example, the 999 Malaysia (@999Malaysia) Twitter page took to their account to showcase an accident that was caused by a motorcyclist who decided to run a red light. The worst part is, the motorcyclist and his passenger weren't even wearing helmets.
Rakaman dashcam kemalangan di kg Kubang Parit, Terengganu..
Sebaik nyawa masih panjang…Ikutlah peraturan lalulintas. GUNA helmet, Jangan langgar lampu merah. .
.
.
Kredit video Mohd Azam pic.twitter.com/DMmE17aogn

— 999 Malaysia 🇲🇾 (@999Malaysia) November 15, 2019
999 Malaysia wrote, "Dashboard camera footage of an accident that happened at Kubang Parit, Terengganu. As long as you still have long to live, it's best to follow road rules. Use a helmet, don't beat red lights."
The motorcyclist could be seen stopping at a red light, and both the rider and the passenger were without helmets. After a few cars passed, the rider assumed that the road was free and rode on, despite the traffic light still being red. He clearly also didn't look left and right before heading on.
Just as the motorcyclist was about the reach the other side of the road, a speeding white car slams into them, sending what looks like one of the rider's slippers flying into the air.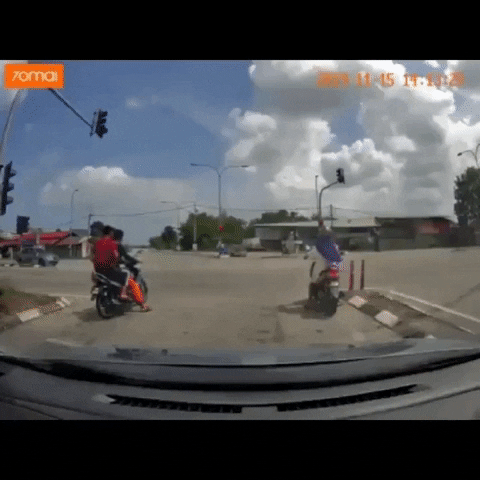 It's still unsure as to the extent of the motorcyclists were injured. We genuinely hope they're okay but use this as a lesson to never underestimate how dangerous roads can be.
999 Malaysia's posting has since garnered over 711 retweets.
What do you think? How can the Malaysian authorities enforce road rules upon motorcyclists who choose to risk their lives and the lives of others on the road?
Leave your suggestions in the comments section below!
Also read: Video: M'sian Man Who Beat the Red Light With NO Helmet On Gets Into Horrific Accident