Video: M'sian Man Who Beat the Red Light With NO Helmet On Gets Into Horrific Accident
It is a crime to not wear a helmet, and it is a crime to run a red light. Doing both will only put you at a greater risk of getting into accidents, or worse, losing your life.
A video posted on Twitter shows a man on a motorcycle getting into a horrific accident after running a red light with NO helmet on. The incident happened at about 12pm on 13th September 2019.
The man was waiting at the traffic light at what seems like quite a busy intersection somewhere in Malaysia. He is seen not wearing a helmet and even checks and adjusts his hair in the mirror.
Once the traffic at the intersection clears up a little, he moves forward while the traffic light is still red, which seems to be a bad habit that many motorcyclists in Malaysia practise nowadays.
As the man rides through the intersection, everything seems fine until another motorcyclist coming from the left approaches the intersection at quite a high speed.
The approaching motorcyclist crashes hard into the unsuspecting man, who did not even look left or right as he passed through the intersection. The motorcyclist then crashes a few metres ahead, and can be seen looking around in confusion, and presumably, pain.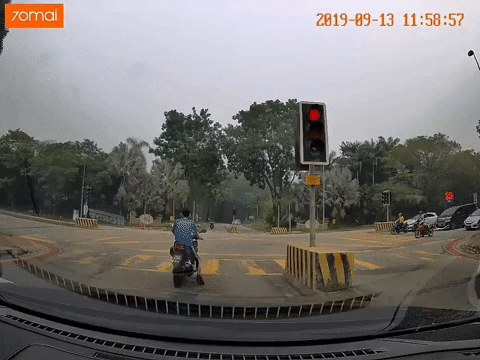 The man falls to the ground as his motorcycle spins quickly on the ground due to the sheer speed at which the other motorcyclist was going. No movement is seen from the accident area as other motorcyclists stop by to help with the situation.
It is not known how severely injured the man was, but this just shows what can happen when motorists and motorcyclists don't follow the rules of the road.
The post has since garnered about 2,700 retweets and 1,200 likes at the time of writing.
Here's the full video:
Rambut rosak kalau pakai helmet. pic.twitter.com/Ceiqjip5Cs

— MyWatch (@My_CrimeWatch) November 2, 2019
Motorcyclists, please wear your helmet and refrain from running a red light. Your safety matters.
Also read: Watch: Malaysian Records Himself Doing Dangerous Stunt by Riding Motorcycle Under Trailer