Watch: M'sian Driver Bangs & Cuts In Front of Car to Be 'Faster' But Gets Stuck in Standstill Traffic
I'm sure we all can agree that there are all kinds of idiotic motorists on the road, especially in Malaysia where double-parking and skipping toll fees are a thing.
There are also those who think they own the road with their big cars and push their way into lanes, forcing others to make way for them.
A video posted on Facebook shows a car lining up at a Touch 'n Go booth in the midst of heavy traffic.
Just as they were about to enter the toll booth, a large white van cuts in front of them and knocks their car. This is certain as you can actually hear the sound of the impact from the dashcam recording.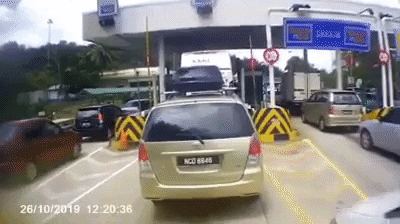 As if unremorseful of what just happened, the van continues to push its way in front, scraping the other vehicle in the process. The white vehicle is then revealed to be a Nissan Serena.
However, if they thought that forcing their way in front of another vehicle while knocking and scraping their way through to the toll booth would make them "faster" and "closer to their destination", they thought wrong.
As soon as the Nissan Serena gets past the toll booth, it gets stuck in the standstill traffic jam, just like everyone else. There's no way to turn left or right, or move forward or backward, which defeats the purpose of cutting in front of another vehicle in the first place.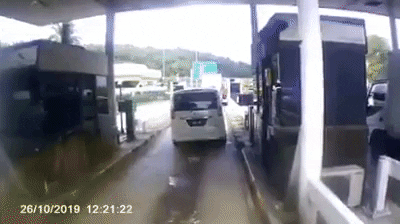 Many netizens were quick to point this out.
"How stupid it is. Does it worth and at the end stuck at the jam. Your impatience is more expensive than repairing the car," a netizen commented.
"So fast, wanna go where?" another netizen said.
"Cut in, got the lead, so what? In front jammed and not moving, were you any faster? Idiot."
Here's the full video:
What do you think of the behaviour of this motorist? Let us know in the comments below!
Also read: M'sian Shares How Easily He Reports Cars that Cut Queue to JPJ