Watch: Boy Nearly Falls to His Death Because Parents Took His Phone & iPad, Thankfully Saved by Bomba
Kids these days are clearly waaay too attached to their electrical devices, considering most of the time parents use these hand phones and tablets as a substitute for their own attention.
We've seen it time and time again, where kids would throw tantrums and cause chaos in public spaces and parents use these electronics as a tool to shut them up. But what would happen if you actually take away their mobile phones and tablets?
Today, we found out, as shared by Jei FM II in Facebook video not for the faint-hearted. A boy, who looks like he could be 12 or 13-years old, can be seen sitting at the very edge of the ledge outside a window, considerably high up in a condominium in Sengkang West, Singapore. After what looked like a slight misstep, he slipped off the ledge and fell to the ground below.
Thank goodness for the firemen, because an inflatable jump cushion had already been set up, which broke the boy's fall and saved his life.
But the reason, as to why the boy was on the ledge in the first place? He was angry that his parents had confiscated his phone and iPad.
Which now begs the question, why are kids so attached to their technological devices? 
Sure, technology was created to ease certain aspects of daily life, but not all. There are parts of life that technology should not interfere with, and that is the interaction between parent and child.
Working parents utilise mobile phones and tablets to entertain their kids so that they can get other household/work related things done. This however isn't the best way, as many children end up very attached to their electronic devices as a substitute for their parents who are too busy.
Hence, losing these devices may very well be similar to losing a companion to kids and may cause them to take drastic measures in order to get their electronics back.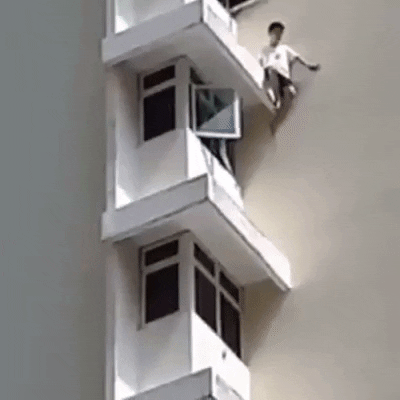 Jei FM II's posting has since been shared over 86 times.
Let's hope this kid and his parents can learn to be more understanding of each other, while this can also be a lesson to new parents out there to build meaningful relationships with their kids without the use of electronics (well, at least not too much). 
Also read: M'sian Lady Rests Her Feet On Someone's Headrest In a Cinema, Gets Bashed By Netizens