Upin & Ipin Will Be In The Running For Best Animated Feature Film At The 2020 Oscars!
The Academy Awards, or The Oscars as it's commonly known, is typically considered to be the biggest night in the film industry. After all, their recognition is backed by some of the most influential people in filmmaking, with a history that stretches back to the 1920s.
So you can imagine how incredible it is to hear that one film from Malaysia will be in the running to compete at the 2020 Oscars for Best Animation Film!
Which film, you ask? You guess also you cannot guess wei, because the film contending for the top spot at the next Oscars is going to be Upin & Ipin, according to Free Malaysia Today! Yes, you heard that right, the local favourite cartoon duo from our shores is going to be in the running for an Oscar!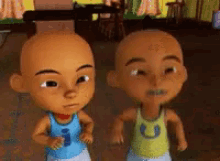 This comes after the film collected over RM25 million at the local box office in just three weeks of screening, with a total audience count of over 2 million people! So, what are the other films being listed in the running for the same award?
Well, Upin & Ipin will be facing stiff competition from the likes of Toy Story 4, the Angry Birds Movie 2, The Secret Life of Pets and even Frozen 2! Holy crap! This major announcement comes after the film was recently awarded the Best Film Story at the 2019 International Animation Film Festival (Animaze) in Montreal, Canada.
Producers of the film, Les' Copaque Production, shared the news over their Instagram and thanked all Malaysians for making this incredibly historic moment possible.
Well whatever the outcome, we are definitely super proud to know that our local talents are now flourishing on a truly international stage. Good luck to Upin & Ipin!
Also read: Upin & Ipin Movie is M'sia's Top Earning Animated Film With RM25mil, Beating Incredibles 2