This Covid-19 Awareness Run Allows You To Take Part From HOME, ANYWHERE In Malaysia! Here's How
By now you would've all heard about the Movement Control Order that has been ongoing since the start of the Covid-19 pandemic in Malaysia. And while there are a number of things we cannot do including travelling overseas, taking part in mass gatherings or going to school, there are a few things that we can do at home!
One of these activities includes joining a marathon right from the comforts of our own home!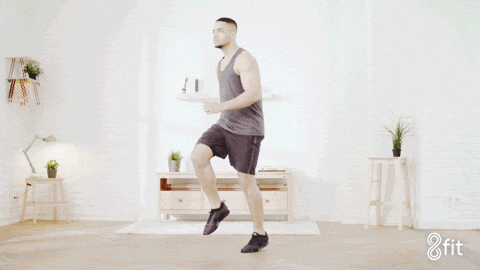 Although gyms and public parks are off-limits during MCO, we can still work out (or more specifically jog) at home. There's no excuse for you to stop running or exercising completely!
But just to give you the push you need, here's a work run-from-home marathon you can join! It's easily one of the most unique runs we've EVER heard of:
It's the Covid-19 Battle Virtual Half Marathon organised by JomRun and it's happening from 15 March to 15 June 2020!
And you can choose to run either a 5km or 21km marathon.
Now, before you say "Crazy ah? How to run a marathon at home?!" hear us out! As mentioned before, this run is super unique. Here's why:
1. You can take part from ANYWHERE in Malaysia (as long as you're at home) by using a step counter
Unlike normal marathons where all runners are required to run on the exact same track or path, this Covid-19 Virtual Half Marathon can be run from anywhere in Malaysia (just make sure you're at home). Seriously, A-NY-WHERE.
You can either run on a treadmill, run in place, or just walk/jog/run up and down your house if space allows it.
You can use any app to track your steps including Apple Health, Samsung Health, HUAWEI Fit, and so forth.
To join this virtual run, just follow these steps:
Register and pay for the run via the JomRun app
Prepare a step counter app and do whatever it takes to accumulate 5km or 21km worth of steps before 15 June 2020

1KM = 1,500 steps
5KM = 7,500 steps
21KM = 31,500 steps

Submit photos or screenshots of your steps (showing the date and distance (if available)) together with a screenshot of your e-ticket to [email protected]
If you're using a treadmill, simply snap a photo of your treadmill's screen showing the distance and submit it along with a screenshot of your e-ticket to the same email.
Do note that this "marathon" does NOT need to be completed in one go. The steps/distance can be accumulated as long as you accumulate enough steps/distance by 15 June 2020.
2. Runners are entitled to the most amazing gifts and prizes!
After all, no self-respecting marathon would be complete without some shirts and medals to commemorate the day, ammirite?
Well, for this run, you won't believe what they're giving out to runners:
Dry-fit shirt
Finisher tee (21km only)
Covid-19 Battle Medal with your name engraved on it
Face masks
Hand sanitizers
Yes, you read that right, besides the super cool engraved medals, participants will be receiving face masks and hand sanitizers in their run packs too!
3. Despite the uber-cool run packs, this marathon is SUPER DUPER affordable with prices starting from RM28 only!
If you're an avid marathon runner, you'd know that some of these runs can cost up to hundreds of Ringgit to join. For the Covid-19 Battle Virtual Run, however, the prices are insanely affordable. The earlier you register, the cheaper it is:
So if you're interested to take part in this Covid-19 Battle Virtual Half Marathon by JomRun, make sure you register via their app ASAP for the early bird prices!
Registration ends 15 June 2020, but you can run anytime between 15 March and 15 June 2020! Don't say we bojio, okay!
And in case you're unfamiliar with JomRun, it's basically an app you can use to track your walks or runs as well as keep up to date with and register for the latest and upcoming runs or marathons around Malaysia without paying admin fees. That means the fee you pay for your marathon would often be cheaper on JomRun as compared to other platforms.
So if you love marathons or would simply like to track your runs and walks, make sure you check this app out!
And whether you're gearing up for this Covid-19 run or simply stuck at home, don't forget to practice personal hygiene all day, errday by:
Washing your hands frequently with soap (for at least 20 seconds)
Avoid touching your face
Wear a face mask if you're sick
Cough or sneeze into a piece of tissue
And IF you happen to feel unwell, avoid going out at all cost and be sure to call your doctor.
Stay safe everyone!