"Someone is on a Shooting Spree," More Stray Dogs Found Dead With Bullet Holes in Shah Alam
People of Shah Alam, it's about time to face a disappointing truth.
There is a serial dog shooter going around the state capital and killing innocent stray dogs at point blank. The worst part is that these poor homeless dogs have never bothered anyone and mostly keep to themselves as they're afraid of humans, and for good reason obviously.
Netizen Jacintha Francis took to her Facebook page to share another incident of stray dogs being shot after she paid a visit to the dogs in Section 27, Shah Alam, whom she feeds.
She wrote, "My heart's breaking for these homeless and voiceless animals. These are stray dogs (a mother and her 2 pups) that I have been feeding. On the 26th of October, I found them dead and noticed an injury on their head which is caused by shooting. Someone is on a shooting spree, killing all the innocent dogs. This happened at Section 27, Shah Alam. I'm worried for the fate of the 20 over dogs around the area. I pray that the shooter and his generations suffer and die painful deaths. I'm sorry for being mean but I can't take the pain. These strays didn't cause any harm. They're loving and timid, why did they have to die in such a cruel way."
These poor dogs already have to live ridiculously hard lives as strays, it's truly awful to know that there are people out there who find enjoyment in the suffering of homeless animals.
Jacintha had found one of the pups still alive, and immediately took the little dog to the veterinary clinic for medical attention.
"I managed to rush the pup to the veterinary clinic. The doctor confirmed that the injury was caused by a shooting. They had found a metal piece in her skull. Suffering in pain even though it was given high dosages of morphine.  Both eyes are bruised and blinded now," she added.
The little homeless pup shook and suffered throughout his time at the vet as his rescuers comforted him until his dying breath.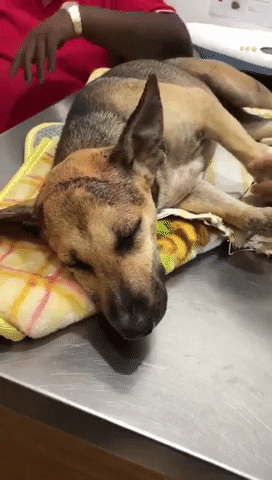 It's unclear if the all the dog shooting cases were perpetrated by the same person or if random citizens have decided that it's okay to shoot dogs since there is little to no justice for stray animals in Malaysia.
Whatever it is, we genuinely hope that the shooter comes forward and surrenders himself to the authorities. But most importantly, we hope that these dogs receive the justice they deserve.
Jacintha's posting has since garnered over 125 shares.
Whoever is doing this needs some serious psychiatric help. 
Also read: Cruel Owner Tied & Threw Cat Into Longkang Allegedly Because It Simply Pooped