Netizens Debate On Why Suspicious Man Took Off Running After Hanging On To Lorry in M'sia
You see a lot of different things on Malaysian roads, but most of the time what stands out has something to do with vehicles themselves.
Though this time around, it wasn't a vehicle that caught netizens' eyes. It was a man hanging onto a vehicle.
The We are Malaysians Facebook page took to their profile to showcase dashboard camera footage of a barefooted, shirtless man hanging on to the back of a huge truck. When the truck turned at a junction, the man then hopped off and proceeded to run like his life depended on it.
In the video, the man can be seen hanging on to the back of the truck before completely taking off on foot as though he was trying to escape something.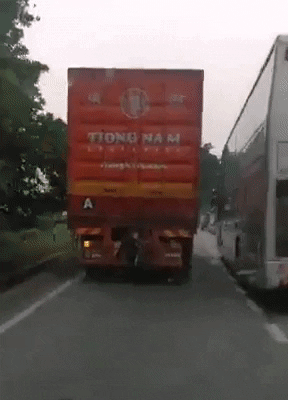 Netizens were quick to speculate as to what the man was running from. Some suspected that he could be a convict running from the law, whereas others explained that he might be running away from human trafficking employers considering he looks foreign.
This comment goes, "Convict, maybe?"
It is still unsure as to why the man was in the position that he was in, but if he truly is a convict, then we hope that this video will assist the police in identifying and finding the man.
But if he's running away from bad employers, we hope that he finds a safe space where shady human traffickers won't find him.
We are Malaysians' posting has since garnered over 93 shares.
We wonder if the truck driver knew the man was there. 
Also read: Dog in the Middle of Road Hit by Alam Flora Lorry, Netizens Believe It Might Be Intentional