Father-to-be Mistakenly Gets Operation by Chinese Doctors but You Won't Believe What Happens Next
A man was nervously waiting for his wife as she went through labour but the worried father-to-be was accidentally given an operation on his haemorrhoids in a case of a mistaken identity.
Mr Wang, the expectant father, was mixed up with another patient who had completed the paperwork for the procedure beforehand.
While waiting for his wife who's going through labour, doctors at the Shenyang Hunnan Xinqu Hospital in China suddenly asked Wang to follow them. As he thought he would be taken to a room to help his wife's birth, he did as he was asked and followed the doctors.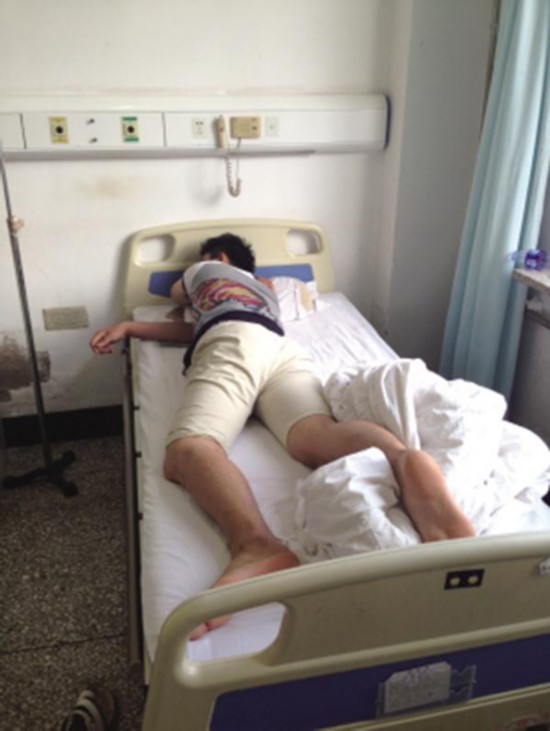 Credit: people.com.cn
The weirdest thing in this switch-up?
The 29 year-old father actually HAD haemorrhoids, making the switch-up scenario oddly beneficial and efficient for the man – a kind of waiting for your new-born child and get an operation on your undiagnosed haemorrhoids. #multitasking
'I really never knew I had haemorrhoids,' he said
Wang's mistake for thinking he was being taken to help his wife was justified as the hospital only had two operation rooms. He soon started to figure out something amiss when doctors told him to drop his trousers and lie on the operating table.
"It felt strange, and I asked why," he told People's Daily. "They said: Just do what we tell you."
"When I was on the operating table I heard a baby crying and I was very happy, and I wanted to hold it. But I couldn't move because I started to feel pain." he added.
As for his newly-born child?
Like all relieved fathers, Mr Wang was super happy about it but being fresh out of a haemorrhoids operation, he, well, couldn't really move but to lie still on his stomach on the hospital bed.
Mr Wang confirmed that his wife gave birth to a healthy baby via Caesarian section. Meanwhile, the hospital has reportedly offered the man 5,000 yuan (RM3,000) compensation for the mix up.
Guess the kid's birthday every year would also be marked by the father's, errr, well-known operation.