Malaysians Can Now Claim a Pirate Roulette Game For FREE!
The Shopee Gods have descended on earth again. Last week the munificent high beings gave out over 900 FREE emoji pillows to Malaysians and now they're back to spread their generosity by giving out FREE Pirate Roulette Games.
Up until 8 May 2016, in the spirit of Mothers' day, Shopee is giving away ONE THOUSAND (1,000) FREE Pirate Roulettes to first time Shopee users from World Of Buzz in an effort to bond and strengthen relationships between family members and friends – orrrr maybe even destroy them, depending how competitive you get. We just hope it won't be the latter.
Take some time off and enjoy some family fun time this Mothers' day by claiming this Pirate Roulette Game for absolutely FREE. This is as free as free gets and we can't emphasize the word FREE any further!
Yes you've heard it, there is no catch at all! Zero cost, NOT even shipping charges!
All you need is to be a first time Shopee user! Andd….the only thing is that you'll have to remember is our highest shopping deity, Shopee! Because honestly? They are the best place to shop and find crazy deals! Just like this giveaway!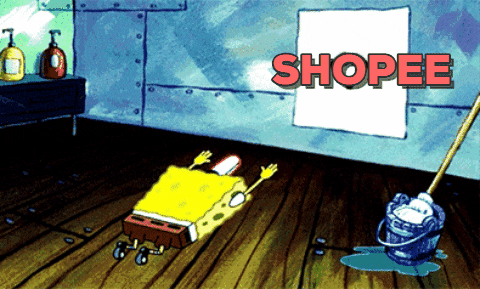 Even Spongebob here hails to Shopee…
If you've never seen this contraption before, here's how you play it.
Each player take turns to stick a sword into his hole. NO, ITS NOT WHAT IT SOUNDS LIKE. One random hole will trigger and eject the pirate, shooting him out from his barrel, and that's when you know you've lost. Mr. Pirate here likes being in his comfy lil barrel. So what's the penalty? That's entirely in your hands. We'd suggest a shot of good ol' fashion rum or perhaps some tequila.
The Pirate Roulette Game started to gain mass popularity after appearing in Korean game show, Running Man.
Lets get to the best part, here's how you claim your FREE Pirate Roulette Game.
All you need to do is basically these 4 simple steps which takes you less than 2 minutes:
Step 1: Download the Shopee app here.
Step 2: Search and follow "shopee_mamak" on the app and click 'buy' on the "Pirate Roulette Game".
Step 3: Insert voucher code "WOBGAME" during checkout to claim it for FREE.
Step 4: Share this article post in your Facebook and hashtag #ShopeeWOB. Shopee will than validate this via the hashtag.
Yes, its completely FREE. No hidden charges, no shipping cost, nothing! ZERO RINGGIT.
Hurry tho, this giveaway is till 8th May and limit to the first 1,000 redemptions from World Of Buzz only! 
Besides the Pirate Roulette Game giveaway, Shopee is also bringing huge discounts on amazing gifts this Mother's Day period so you don't have to sell your kidney just to get your mom something. Like seriously, we are talking about discounts of up to 81% and additional discount codes on top of that!
Check out their 'Last Min Deals' collection now and show some appreciation to the most precious woman in your life! Who knows you may even win a trip for 4 to Universal Studios Singapore when you make any purchase within the Shopee app until the 8th of May. Get the app here to enjoy all these perks now.
You definitely won't regret it.