Fish Bombing Activities Are Destroying the Coral Reefs Around Sabah, May Disappear By 2020
Sabah is known for their emerald clear waters paired with gorgeous greenery and mountains for days. Hence, it's only right that such beauty should be paired with admiration and respect in order to maintain its unique ecosystem.
But nooooooooooo. Instead of appreciating what nature has given us, instant gratification wins again as fishermen off the coast of Semporna, Sabah have been using bombs to conduct their fishing activities.
In a now viral Twitter video by Masidi Manjun (@MasidiM), these fishermen can be seen forming a circle around a particular area of the ocean, while one of them throws a bomb into the middle of the water. The water then erupts as the bomb explodes. The fishermen then can be seen moving closer to the middle before a second bomb is thrown and it explodes (and it explodes really close to one of the boats I might add.).
A typical fish bombing scene in Sabah (videographer unknown). Other than fish & occasional human fatality, even the sea corals are destroyed. pic.twitter.com/ywyGfa2IYs

— Masidi Manjun (@MasidiM) July 6, 2019
Masidi captions the posting with a brief explanation of the dangers of such fishing practices, "A typical fish bombing scene in Sabah (videographer unknown). Other than fish and human fatality, even the sea corals are destroyed."
Outraged netizens took to the thread to comment their disbelief while others offered solutions to this unethical behaviour.
This comment reads, "Because of laziness? Or because of greed?"
However, a handful of netizens are also questioning the origin of these fish bombers, as some believe they are foreigners who enter our waters in order to conduct their bombing activities.
This comment goes, "Those doing the bombings, are they Sabahans or outsiders?"
This comment says, "If they are not locals then that's worse. We must not allow foreigners (or locals) to destroy our sea life and it's creatures with this unethical practice. If education (that has been given for years) is still inefficient in stopping these activities and they've been given warnings, then do something else. Something more extreme."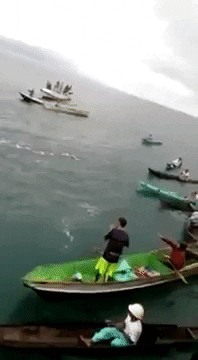 Local or foreign, either way, the authorities need to act as quickly as possible in order to stop these activities from proceeding on our shores, for if these activities persist, we may see the complete demise of Sabah's coral reefs by 2020.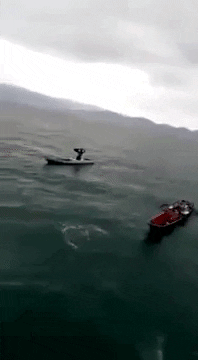 Not so fun fact: These fishermen don't even know they're destroying their own livelihoods by destroying the fish's habitat.
Masidi's posting has since garnered over 1,400 retweets.
Scientists are currently in looking for effective ways of restoring coral reefs. Hopefully we can save ours before they're needed.
Also read: These Viral Photos Of Polluted Water Villages In Sabah Will Make You Think Twice About Littering