Beware: 2 Thieves Recklessly Try To Rob From Houses in KL, Even When There Are People Inside
Like us on Facebook for great stories daily!
Listen to this post:
If you don't succeed, try and try again until you do. Typically, that's never a bad piece of advice to follow, as we all know that failure is the mother of all success. However, in some cases, this may not necessarily be the best idea!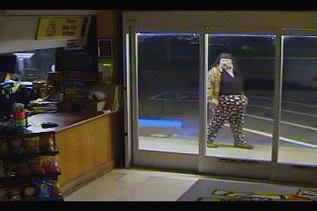 In a video shared by Twitter user @999Malaysia, two robbers were witnessed committing 3 separate instances of crime on the same night in the Taman Sri Gombak area! Are you serious?!
And what's mind-blowing is that these two were obviously DESPERATE for cash because they tried to rob the residential houses even when there were people in side.
Kes samun di Taman Sri Gombak. Katanya 3 kes pada hari yang sama dilakukan oleh orang yang sama. pic.twitter.com/zPPlEPe3lh

— 999 Malaysia 🇲🇾 (@999Malaysia) September 15, 2019
The first incident happened when they tried breaking into a terrace house in the suburban neighbourhood. Now, the key-word here is tried, as we can see that both burglars had clearly been struggling to break the front door of the home open. After repeated attempts at kicking, smashing, ramming the door with the sides of their arms and even breaking the glass, the door remained locked in place! Thank God! After a while, knowing that there was no way they could break in, the duo fled the scene.
In the video, you can hear a lady speculating that the thief may be on drugs because of his boldness and persistence.
They then tried robbing another house after its residents entered the home, but thankfully the residents managed to lock the doors behind them in time to prevent the robbery from happening! Again, both burglars tried to kick the door down and still failed!
Determined not to leave empty handed, the duo wound up moments later at a nearby mamak, where they robbed the cashier at what appears to be knifepoint. This time, there was nothing stopping them from raiding the cash register and making off with the money. How awful!
Both suspects are on the run and police are on the lookout. The video has been shared over 1.7k times.
For those of you with any information on any of these incidents or the two suspects, please be sure to report to the authorities immediately!
We urge everybody to stay safe because these duo are obviously desperate for cash and will stop at nothing to obtain some money!
Also read: Watch: Badass Johoreans Help Police Catch Burglar Who Tried to Escape by Jumping Over 3 Fences
Like us on Facebook for great stories daily!