6.8 Magnitude Earthquake In Turkey Causes Ground To Bleed A Deep Red Colour
Many were bracing for the end of the world back in 2012 where speculations arose about the possibility of the apocalypse.
When 2013 rolled around, we all put aside the notion that the world could possibly end and moved on with their lives. Until now.
It's only the beginning of the second month of 2020, and we've already seen more tragedies and odd occurrences than any other year, which is causing people to once again believe that the world may be ending sooner than later.
One of the latest occurrences includes a 6.8 magnitude earthquake in Turkey that created a very unsettling and bizarre phenomenon. A blood-like liquid seemed to 'bleed' through the ground as the earthquake tore apart the ground, as showcased in a video by Daily Star.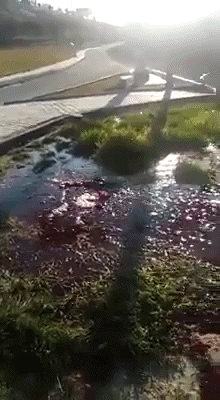 The earthquake that was centred near Sivrice, Turkey also caused a series of aftershocks ranging from between 5.4 to 3.3 in magnitude.
The horrific video can be seen on the Extreme Weather World 24 Facebook page.
TURKEY – M6.8 red water off the ground after the earthquake

Posted by Extreme Weather World 24 on Thursday, January 30, 2020
They wrote, "TURKEY – Magnitude 6.8, red water from the ground after the earthquake."
Some have since tried to make sense of the bloody mess, stating that the red colour could be due to dye that's been added into water supplies to help detect leaks, though that theory was challenged by many because technicians would have used brighter colours such as green or yellow.
Others speculated more supernatural explanations, pointing out that the 16th chapter in the Book of Revelation counts down the stages to the apocalypse, predicting that, "The third angel poured out his bowl on the rivers and springs of water, and they became blood."
Either way, this is still a reminder that we have much to fix when it comes to how we've been taking care of our planet, because based on how we've been treating our world, maybe it's about time we got wiped out so that mother nature can have a fresh start.
What do you think the reason could be? Let us know in the comments section!
Also read: Stunning Images Show Saudi Arabia's Dry Deserts Covered With Snow Due To Cold Spell