Watch: This Aunty is So Power, She Shook & Tilted a 200kg Claw Machine to Get a Soft Toy
If you've tried to catch a plush toy using a claw machine, you would know that it's no easy task. You would usually have to try dozens of times before succeeding and there's no denying that it's extremely frustrating watching the claw clumsily grab and release the toy you're targeting.
Well, an Aunty from Singapore had enough of trying to get a stuffed toy at a claw machine that she decided to take matters into her own hands.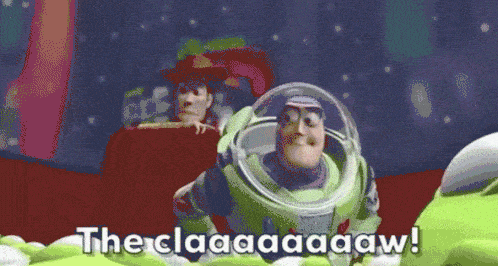 Without even inserting any token into it, she shook the entire machine vigorously until one of them fell out! Mind you, the claw machine is two metres high and weighs 200kg.
This happened at 7.30 on 7th October at the Bear Claw Taiwan arcade, located at Lucky Plaza.
Stomp reported that the owner of that particular machine at the 24-hour arcade caught the woman in the act when she decided to check CCTV footage.
"I decided to check the CCTV because I saw that the machine was in a huge mess. The toys that were hanging in it had all dropped down," she said.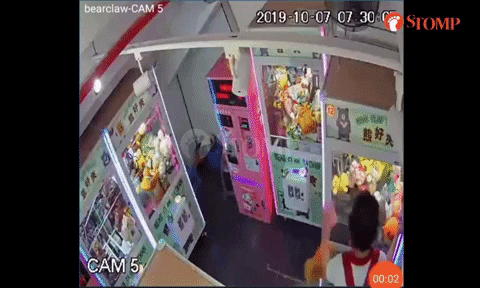 "Sensing something amiss, I checked the camera playback. The woman came to the arcade, played with some machines and then walked over to mine."
"She didn't even insert any token and started to shake the machine. When she saw that a bear seemed to be dropping from her shaking, she inserted a $1 token."
"She attempted to catch the toy but couldn't, so she shook the machine again until it dropped out."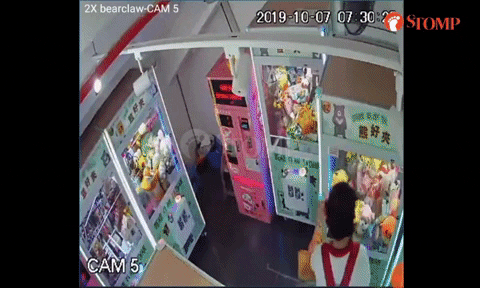 The owner of the machine then said that she hopes this warns everyone of the consequences for such behaviour.
"My intention is not to catch the woman, but to highlight to everyone that there are CCTV cameras in every shop," she said.
"The machines are very heavy, and thus, extremely dangerous if they land on anyone. We have come across customers whose toys got stuck at the machine's claw. They called us and we gave them the toys willingly. There was no need to shake the machine at all."
Wow, this Aunty damn power! Did you see the way she shook that machine? She must've been really desperate for a toy, but shaking the machine shouldn't be the way to go.
Also read: Watch: Poor Puppies Being Used As Prize Gifts For A Claw Machine