Video Shows Two M'sian Drivers Fighting Over A Lane Because One Of Them Tried To 'Cucuk'
Malaysian drivers have certain skill sets when it comes to navigating our local road systems.
For instance, inserting themselves into an already occupied lane. But what happens when the driver in the occupied lane doesn't let you in?
You play chicken.
The MyWatch Twitter page shared a video showcasing two cars battling it out for a spot in an occupied lane, one car was trying to enter the lane while the other car tried to maintain its position and refused to budge.
Langsung tak kasi chance. 😅 pic.twitter.com/88MzmXMBtG

— MyWatch (@My_CrimeWatch) December 29, 2019
MyWatch wrote, "No chance given."
Normally, when a car refuses to allow you into an occupied lane, you'd fall back and try the next car, but the Proton Perdana that was trying to enter the lane in the video refused to back down.
They even came pretty close to hitting each other. Eventually, the Honda gave up and gave way to the Perdana.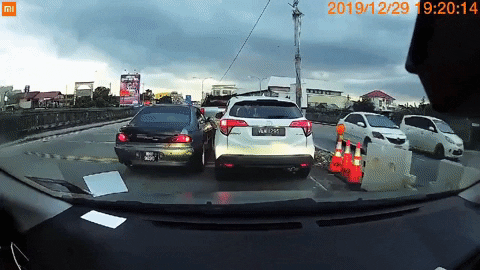 Was that even necessary? What happened to the good old days when all you had to do was show your hand and all is good in the world?
MyWatch's video garnered up to 420 retweets.
Had a similar experience? Let us know in the comments section!
Also read: Girl Takes Photo Of Herself Sitting On a Chinese Grave Because She's Tired Of Her Usual Poses