Video: Malaysians Rush & Run Towards JPJ Office In Order To Get Earliest Queue Numbers
Recently, the Road Transport Department Malaysia (JPJ) resumed all counter service operations including for the renewal of road tax, drivers licenses and so forth.
But one thing has not changed since before and after the activation of the Movement Control Orders (MCO), which is the fact that Malaysians hate having to queue up at JPJ offices.
The Penang Kini Facebook page took to their profile to showcase a video of Malaysians running towards the Batu Uban JPJ branch in Penang as the main gates opened for the day. They were apparently running towards the JPJ building as they wanted to get the first numbers of the day so that they don't have to queue up for long.
'Serbuan' orang ramai sebaik saja Pintu Pagar JPJ Batu Uban Dibuka demi mendapatkan number giliran yang seawalnya..Kesian pulak tengok brader tu punya pulun berlari sampai tertomoih di atas jalan raya.. 😢

Posted by Penang Kini on Monday, May 18, 2020
Penang Kini wrote, "The people 'raided' the JPJ Batu Uban branch the moment the main gates opened to get the earliest queue numbers. We feel bad for the man running so hard until he fell on the road."
In the video, the people running and riding in on motorbikes can almost be described as water pouring out of a broken dam.
Just as pointed out by Penang Kini, one man even fell onto the road as he ran towards the building after parking his motorbike.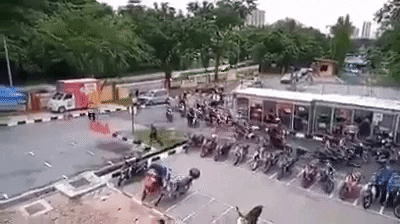 Not only does this look somewhat dangerous as it reminds us of a stampede but we're also concerned about the social distancing factor that should come into play here.
We genuinely hope that JPJ officers look into this issue and solve it accordingly so that no one gets hurt or worse, infected by the Covid-19 virus and causes a cluster in the process.
What do you think about this? Let us know in the comment section. 
Also read: SS15's Bubble Tea Street Dying Off As Owners Put Up Their Shops For Rent & Sale