Video: Horrifying Moment When Car Knocks & Runs Over Boy Who Crossed the Road Without Looking
A little boy had a near-death experience when he was run over by a car but miraculously survived.
The incident happened in Singapore, where a video was recorded by what seems to be a taxi or e-hailing car's dashcam due to the directions being given out.
As the car turned into Depot Walk, located between Sri Ruthra Kaliamman Temple and Qi Tian Tian Temple, two women and two little kids are seen walking out of one of the temples and onto the sidewalk.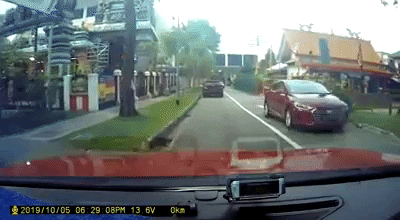 One of the kids suddenly breaks away from the group and starts running across the road. One of the women – probably his mother – runs after him, but she immediately stops in her tracks when a car approaches.
Everything happened so quickly. Just as the boy got to the middle of the road, the car knocked him down and ran over him!
The car didn't even have the chance to stop as the boy had made such a quick dash across the road. By the time the driver realised what was happening, he had already knocked the boy over.
However, miracles do happen as the boy was small enough to not be run over by the car's tyres!
It's not known if the boy sustained any injuries, but he appeared to be conscious and moving although he did seem to have some trouble standing while the mother picked him up.
While many netizens blamed the mother for not holding her kid's hand and ensuring he was safe on the road, others pointed out that the parked car had been illegally parked.
There were also some who mentioned that the moving car should be driving slower in those areas while some commented that the taxi could've alerted the boy by honking.
But despite who people are putting the blame on, let's just all be thankful that the boy was okay in the end. Hopefully, this video serves as a reminder to take extra care of little children while walking on the streets.
Here's the full video:
Also read: Watch: This M'sian is So Cheapskate That He Follows Car In Front to Escape Paying Ticket at MidValley