UMNO Youth Leader's Home Looks Like A Supercar Showroom & Netizens Are All Kinds Of Jealous
It's no secret that people find the lives of the opulently wealthy fascinating.
One example of this is Datuk Nazir Hussin Akhtar Hussin's life.
Farhan (@lamkanahraf) took to his Twitter profile to showcase Datuk Nazir's home, which looks more like a supercar showroom than well…a house.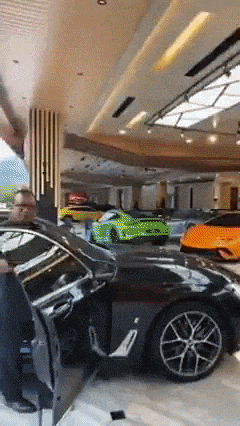 He sarcastically wrote, "Wow, who's house is this? #idol"
Seen in the luxurious porch of the house are various superbikes and supercars that would make any automotive fan weep tears of jealousy.
Datuk Nazir is also known to be the first owner of one of the world's most expensive motorcycles, the Ducati Superleggera V4 which costs RM888,000.
Now, you're probably wondering, what does Datuk Nazir actually do?
Well, he is not only the UMNO Youth Chief for Titiwangsa but he is also the Chairman of Yayasan Bank Rakyat (YBR).
While many netizens were impressed by his collection of cars, others implied that he may have gotten the funds to live such an opulent lifestyle fraudulently and through Malaysia's corrupt political system.
This comment goes, "The people's money. The people are suffering, VIPs and politicians are enjoying Haram money."
This comment reads, "He's a youth leader and he's living like a drug lord. No wonder many are scrambling to be in power, no shame and does not remember the afterlife."
This comment says, "LHDN and SPRM should investigate how a UMNO Youth leader can be so rich. Is he paying his taxes and does he not own properties from bribes?"
Some netizens have also speculated that Datuk Nazir's wealth may come from his family's heritage which could explain his wealth. However, there are no verifiable sources to confirm this speculation. Unfortunately, that doesn't take away from the fact that it is still painful for the average Malaysian to see a politician's wealth so exuberantly spent, especially considering the large wealth gap the country is experiencing and how many are starving and suffering through the pandemic.
We genuinely hope that Datuk Nazir uses his wealth to also help his fellow Malaysians who are drowning during this time.
You can check out the full video here.
What do you think about this? Let us know in the comment section.
Also read: Netizens Call Out TMJ For Insensitive Remark Towards Syed Saddiq