Two Men In Pekan Sg. Way Bring Out Large Knife To Confront Lorry Driver Who Double-Parked
Malaysians truly hate drivers who double-park but that doesn't mean that they should take matters into their own hands.
Two men in Pekan Sungai Way decided to harass a lorry driver who had double-parked on a narrow road, making it hard for cars to pass.
The KAMI Pengguna JALAN RAYA Facebook page took to their profile to showcase dashcam footage of the incident.
Tak puas hati berpunca dari Lori double park.. kesian brother lori tu kena hambat. Pakai senjata pulak tu. Lokasi : Pekan Sungai Way.

Posted by KAMI Pengguna JALAN RAYA on Isnin, 28 September 2020
They wrote, "Unsatisfied with a lorry that double-parked, pity the lorry driver who got harassed. Using a weapon too."
In the video, a white car can be seen stopping in front of the lorry and with both the driver and the passenger getting down to confront the lorry driver.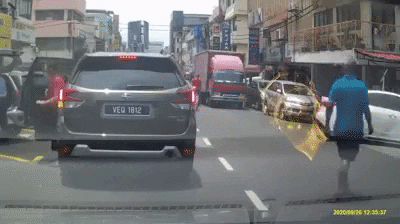 At one point in the video, the driver can be seen holding a large knife as he walks towards the lorry and slashes at the lorry once before returning to his car.
Such gangster-like behaviour should not be tolerated, especially on Malaysian roads. Plus, the two men's actions probably caused bigger congestion than the double-parked lorry.
If you are ever unsatisfied or concerned over how someone is driving or parked, just take down their number plate, make sure you have a video or picture as proof and make a report.
What do you think of these two men's actions? Justice served or who do they think they are?
Let us know in the comment section. 
Also read: Notorious Bezza Driver Menacing Johor Road Users Remanded, Found Positive For Methamphetamines