'Racist' Fox News Causes HUGE Outrage As Man Makes Fun of the Asians Interviewed
My SJW senses are tingling. 
Couple of days ago, The O'Reilly Factor, a conservative segment on Fox News, sent Jesse Watters to New York City's Chinatown to interview the people's opinion about the upcoming election.
The way Watters conducted the interview was pretty distasteful, as he zeroed-in on the Asian stereotypes and were apparently mocking them.
After the video was published, people in the US and all over the world lost it! Some were complaining regarding the song "Kung Fu Fighting" in the background but most of them were pissed about the questions asked! No, but seriously, you won't believe what came out of his mouth.
He started off by asking a woman "am I supposed to bow, to say hello?" and the inclusion of a Mr. Miyagi, reference. Miyagi is the sifu from the original Karate Kid, just FYI!
A writer from Mashable even wrote, "As someone who is half Asian-American, and grew up with mostly Asian friends, this was familiar grade-school-level racism to me, like someone squinting their eyes or speaking in a fake accent. "
Also, the interview video included cuts to meme-like short videos which most found offensive. While asking an elderly woman a question, the lady who obviously couldn't speak English kept silent. During then, the video cuts to the short video of a lady shouting "Speak! Speak! Why don't you speak!". Seriously, rude much?
Watters then asks another man who also clearly doesn't speak English, and only gave a short awkward chuckle before falling silent. Anddddd cue *silent cricket chirps* playing in the video background.
"He might as well have just screamed, "Look, this immigrant can't speak English!" while laughing into the camera."

– Wagstaff, Mashable
Woman squinting her eyes in disbelief
A WHOLE lot of people did not take it well and commented that it wasn't the first time Fox News was being racist.
"And they still wonder why Fox News is number one with Racists." one wrote.
"This segment is extremely distasteful and embodies an outdated, racist, disrespectful view of Chinese American people. A journalist's job is to pursue truth and understanding; this video mocks its subjects, belittles Asian culture, and perpetuates disrespect." another person commented.
"What's worse, Jesse Watters' racist attacks on Asian Americans or the fact Fox News stands by him with no comment?" wrote one viewer on YouTube.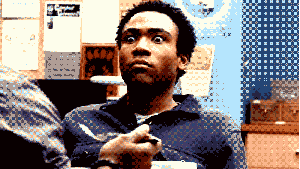 As for Watters? He had this to say:
See the full clip here and do let me know what you think in the comments; Was it a joke? Was it offensive? What's my number?: