OKU Man's Daughter & Her BF Pawn His Electric Wheelchair, Steal His Phone So He Can't Call For Help
Sometimes, humans really suck.
Humanitarian, Kuan Chee Seng, who is affectionately known by Malaysians as Uncle Kentang, took to his Facebook page to tell us why in a series of postings.
He explained that someone had stolen a disabled man's electric wheelchair, leaving him immobile. But what hurts the most is that the people who stole the wheelchair are the disabled man's daughter and her boyfriend.
He wrote in his initial posting, "I WILL FIND YOU, I ALREADY KNOW WHO STOLE IT. IT'S BEST IF YOU ADMIT IT AND CALL ME, BEFORE I FIND YOU. Uncle Daud's electric wheelchair was stolen by one of his relatives. Daud, don't be scared. If the information you told me is true, because you know you stole it and threatened you, I don't know what I will do to the wicked person who bullied you. Someone would actually steal an electric wheelchair from a disabled person."
He later on found out that the thieves were Uncle Daud's very own daughter and her boyfriend. He also received news that the wheelchair that was stolen, was sold to a Cash Converters outlet in Setapak for RM1,500.
"Cash Converters Malaysia is not at fault. The receipt from buying the wheelchair was with Daud's daughter and it is understood that her boyfriend sold it. For Daud's convenience, I had originally surrendered the receipt to his daughter for safekeeping as the chair had its warranty and can be serviced at anytime. Unfortunately, this made it easier for them to sell the electric wheelchair. Daud had waited 10 years to get an electric wheelchair, but it didn't last two months," he added.
To add further fuel to the fire, the daughter and her boyfriend also took uncle Daud's handphone from him so that he couldn't call for help.
"Very saddening. It is understood that Daud's handphone was snatched by his daughter and her boyfriend, so that Daud would be uncontactable and that he can't contact us for help. I will go down to Melaka to find Daud. Be patient, Daud. I will return your wheelchair."
Uncle Kentang then went to the Cash Converter to buy back the electric wheelchair for uncle Daud.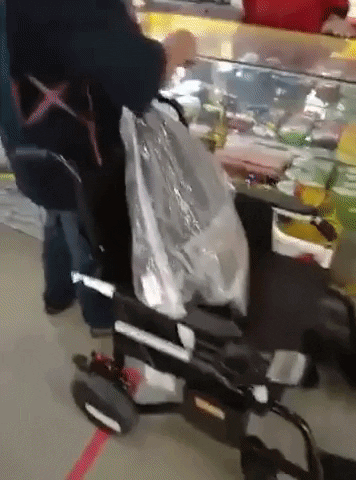 "What are you doing with the RM1,500? Buying things for your boyfriend?"
It's truly painful to see that a daughter would bully and treat her disabled father this way. We genuinely hope that the authorities catch hold of the duo.
We're thankful for Uncle Kentang for taking charge of the welfare of uncle Daud, and for the many netizens who donated to help him get his electric wheelchair back.
This world needs more kind and selfless people like Uncle Kentang.
What do you think about this? Let us know in the comment section. 
Also read: This OKU M'sian Cleans Public Toilet to Support His Family, Skips Meals to Pay Mum's Medical Bills