M'sians With Flawless Skin Share the '424 METHOD' & 4 MUST-Try Hacks to Younger-Looking Skin
Regardless of how old we are, we all strive for flawless, young-looking skin. Obviously, right? Unfortunately, due to our Malaysian weather, the haze, our diets, and so forth, achieving flawless skin is sometimes close to impossible for many of us. In view of this, we've decided to ask a few Malaysians who are actually blessed with perfect skin to share some of their hacks with us! Here's what they shared:
1. When applying moisturiser or lotion, SLAP it on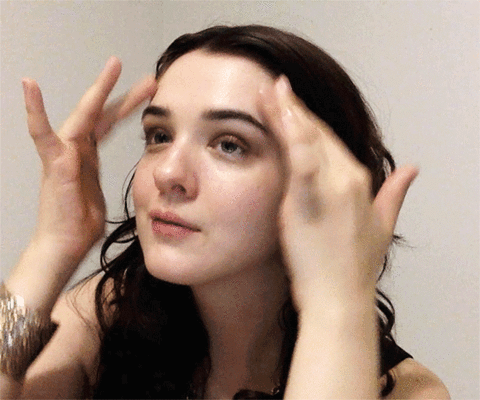 "This definitely feels like my skin absorbs the products better and they're not just left on the surface of my skin." -Sarah Jane, 24
One common way most of us apply our creams is probably with one or two fingers and then gently rubbing it on. However, for many Koreans and Japanese people, they often slap on their products instead.
As brutal as that sounds, it is believed that by (gently) slapping on your products, you encourage blood flow in your face and it is also said that your skin absorbs the product better.
2. Make a face mask out of mint leaves a.k.a daun pudina
"I love mint leaves so this mask smells heavenly to me. But apart from that, it also helps lighten spots on my skin and it gives me a very refreshing feeling after. It's also super cheap to buy peppermint leaves!" -Sara Ravindran, 25
Mint leaves, like many other herbs and plants out there, come with many health benefits. In terms of your skin, mint leaves contain antibacterial properties as well as salicylic acid, both of which prevent acne, blackheads, as well as help to moisturise your skin. Mint is also known to boost blood circulation in the body as well.
To make this mask, all you have to do is:
Wash and grind up about two handfuls of fresh mint leaves until it becomes a paste
Simply apply it all over your face
Leave it on for about 15 minutes and wash off
3. Use the '424 method'
"I've been using this method for two years now as it helps keep my skin feeling fresh after each wash and I'm experiencing much fewer breakouts too." -Su Lin, 31
While many Malaysians have probably never heard of this method before, it's a famous rule of thumb when it comes to skincare routines in Korea and Japan. In fact, this concept is said to have been practiced for centuries in Japan. Is that why their skin is so nice and smooth?!
So here's what the '424 method' is for those of you who are curious:
4 minutes of oil cleansing to remove makeup and other residues on the skin
2 minutes of foaming facial cleanser to ensure nothing is left on your face
4 minutes of rinsing to get rid of the cleanser and other impurities
4. Make a DIY toner out of rice water 
"My grandma taught me this trick. It's so cheap and easy to make and it definitely helps with my complexion." -Xin Li, 29
Malaysians love their rice. We have to have it at least once a day. At least. Well, the next time you masak nasi at home, don't throw out the water! Because it's rich in vitamin B, rice water will help soothe, repair, lighten, and firm-up your skin too.
In order to make this rice water, just follow these steps as taught by Xin Li's popo:
Wash your rice at least twice to get rid of the debris
Pour in more water than usual before boiling your rice
After your rice is finished boiling, strain the extra liquid and keep it in a bottle
Voila! Now you have a bottle of rice water toner which you can use with a cotton pad after cleansing your face
5. Avoid using more than three skincare products
"I follow beauty vloggers who apply a LOT of skincare products and I used to follow suit. However, it honestly didn't do much for my skin and it sometimes felt worse. I recently switched to using two products only and I feel like I actually see a difference!" -Sandra, 29
While it is tempting to try 98,279,213 different products on your skin and feel like a total beauty vlogger, it's important to remember that sometimes, less is more. Just find the right products, that's all you need!
According to dermatologist Dr. Ellen Marmur, using too many products at once can lead to depleting lipids on your face and dry out your skin too. Certain combinations will cause certain products not to work to its fullest potential too.
So if you're looking for a two-step routine that works wonders (instead of a 10-step routine that barely does anything), you could give Olay's power duo a try!
Known as the Olay White Radiance Light Perfecting Essence and Olay Regenerist Whips cream, this combination brings the best of whitening, toning, and anti-aging altogether.
Here are some of the ingredients and benefits that come with the…
Olay White Radiance Light Perfecting Essence
Contains Sepitonic, Pearl-Optics Complex and Vitamin B3 which reduce dark spots and brightens skin
Xylitol increases skin hydration and boosts skin translucency
Olay Regenerist Whips cream
Amino Peptides, a type of procollagen molecule that reduces pimples and helps firm-up and repairs the skin
Vitamin B3 and carob fruit extract to accelerate the renewal of skin and reduce wrinkles
Olive-M, an antioxidant that protects the skin from oxidative damage
Hyaluronic acid + glycerol to moisturise, soften, and plump up the skin
Evidently, these two products contain completely different ingredients and benefits, but when used together, it maximises the impact on your skin. The White Radiance Essence helps bring out the inner glow of the skin and reduce dark spots while the Regenerist Whips cream improves skin firmness, makes it bouncy, hydrated, and smooth.
Both products are also extremely lightweight making it easy for your skin to absorb all its goodness while also reducing shine for up to eight hours. This combo works so well together that some even skip their primer.
What's more, the Olay Regenerist Whips cream was the #1 new skincare product in the USA in 2018. 
So there you have it, if you want to achieve the ultimate glow-up look, give these two Olay products a try and avoid the hassle of using a million other products. It's time to glow-up, not grow up. 😉
Find out more about Olay here!