M'sian Man Dumps Unwanted Kittens By Roadside, Attempts To Beat Adult Cat With Crate
Like us on Facebook for great stories daily!
Listen to this post:
Having a pet has always been a long term responsibility, especially when the pet is acquired when it's a cute little baby.
But what happens when it grows up and is more difficult to handle? What happens if it ends up having little kids of its own?
The Persatuan Haiwan Malaysia – Malaysia Animal Association took to their Facebook page to showcase a couple that could be seen dumping a litter of kittens out of a cat crate out onto the street, next to an adult cat. Right after they dumped the kittens, the man then turned around and slammed the empty cat crate in the direction of the adult cat, sending all the cats running in different directions.
1. Bela masa kecil sebab comel.2. Dah besar tak mahu mandulkan kerana kononnya pemandulan haram dan halang hak kucing untuk rasa nikmat alam rumah tangga. Ada yang bagi alasan nak mandul tak ada duit dan kos vet mandul mahal. (Vet memang mahal. Vet kerajaan tak guna. Macam-macam prosedur birokrasi)3. Bila lambat mandul atau tak mandul kucing dah gatal tak sangka beranak 3 kali setahun. Sekali beranak purata empat ekor. Setahun berkembang jadi 12 ekor. 4. Tak sanggup tanggung kos makan dah jadi tinggi. Jiran komplen busuk taik kucing berak merata. Kepala pemilik jadi pusing.5. Asalnya sayang dah mula pikir nak cari Persatuan Haiwan Malaysia, cari shelter, cari adopter. Konon nak serah sebab jumpa kesian bawak balik. Serah pulak tak nak hulur seringgit pon. Tak ada duit katanya. Masa sekor tak mandul sebab tak ada duit jugak. Sebab sayang. Sebab nak keturunan macamlah kucing perlu anak yang soleh untuk diwariskan.6. Bila persatuan dan shelter tak nak terima mula pertikai untuk apa kewujudan persatuan dan shelter?7. Akhir sekali dapat gelaran pelempar kucing, penternak kucing dan pedagang kucing. 8. Mula pikir tentang kebajikan kucing lebih baik berada di pasar, medan selera, restoran-restoran kononnya kucing boleh survive dan cari makan sendiri.9. Dah panik dan tak ada hala tuju. Kucing pon menerima nasib dilempar macam dalam video ini. 👇10. Maka berakhirlah nasib kucing menderita disiram air panas. Cacat patah kaki, putus tangan dan koyak rabak dan mati dilanggar kenderaan. Tak kurang yang derita sakit, berkurap, kurus kering dan disepak terajang ketika mencuri ikan di pasar atau mintak makan pada orang tak suka kucing yang sedang menjamu selera kerana diganggu kucing.11. Begitulah kesudahannya nasib haiwan jalanan. Tapi kununnya negara amat jaga kebajikan haiwan. Pemandulan pon banyak kerenah. Banyak klinik kerajaan tak ada vet gred 41 kerana sibuk meeting. Yang buat kerja G17 Pembantu Veterinar taraf SPM. Manakala vet kerajaan di daerah-daerah tak ada buat pemandulan. Harga di Vet swasta tak dikawal dan melampau-lampau kerana harga ubat dan pelali.12. Yang ada ialah Unit BABI, Seksyen BABI dan Kebajikan BABI sebab untung ratus juta setahun. Apa salahnya ambik sikit duit untuk BABI tolong haiwan jalanan. Kalau tanya BABI tu mesti dia setuju hasil pengorbanan dia dibunuh untuk bantu kawan binatang jalanan yang lain. BABI tak banyak cerita. Yang banyak cerita ni yang ada kuasa mengalahkan BABI. Tak percaya tanya BABI.Video : Kejadian di Malaysia#stray #strayanimals #saveourstray #saveouranimals #animals #animalmalaysia #malaysiaanimal #malaysiaanimalassociation

Posted by Persatuan Haiwan Malaysia – Malaysia Animal Association on Sunday, November 24, 2019
The Malaysia Animal Association wrote, "Caring for them when they're small is cute, but when they're grown you don't neuter them because apparently neutering is forbidden and it prevents the cat from enjoying having a family. There are also others who give excuses saying they have no money to neuter their cats and vet costs are expensive, government veterinarians are useless, various bureaucratic procedures."
"When it's too late, neutered or not, cats in heat would mate and have litters 3 times a year. One litter would have at least 4 kittens, hence that's 12 kittens a year. But owners are not willing to bear the rising costs to feed them. Neighbours would complain about the smell of poop, which in turn changes the owner's mind about keeping them," they added.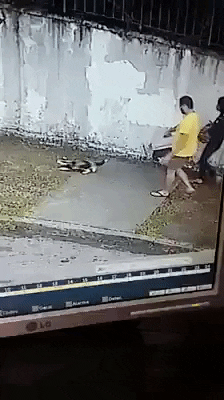 If you are unable to care for your pets any longer but truly still care for them, there are ethical ways to ensure that the cat is properly cared for.
"If you love them, think of looking for us (Malaysia Animal Association), look for a shelter, look for an adopter. Don't choose to take them home because you feel bad for them. Most people also don't contribute money when they hand over their pets. Apparently, they don't have money. They also didn't have money when they only had one cat to neuter," they continued.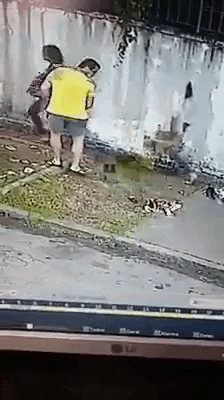 In the hands of such owners, cats then may end up being abused – just like the man who decided to smack the cat with the crate in the video. Cats may end up having better lives while living at markets and restaurants as those working at such places may end up feeding them instead of beating, kicking, throwing boiling water at them and tying them up and drowning them.
Hopefully, the couple is identified and that they are punished for treating the cats so badly.
The Malaysia Animals Association's posting has since garnered over 249 shares.
Someone please save those poor babies. 
Also read: Cat Painted Blue By Irresponsible Humans Makes Us Wonder, What's Wrong With M'sians?
Like us on Facebook for great stories daily!