Man Who Donated Blood Shocks Doctors As They Discover That He Has Alien Blood
Have you ever wished you were unique? Well, we all want to feel special, different, one of a kind.
As we all know, blood groups are categorized into A, AB, B and O (ABO). Then there's the positive or negative Rhesus.
So imagine the doctors' reaction when they realize a man DID NOT belong to any of these groups.

Whuuuut?
This man who astonished the doctors was found in India. Apparently, the Indian national's blood type does not fall into any of the blood groups ABO.
The man donated his blood in a camp but when doctors checked for his blood type, they could not match it with any of the typical blood groups. Bewildered, the doctors, Dr. Sanmukh Joshi, Dr. Kinjal Mendpara and Dr. Ankit Sheldiya sent samples of the blood to the World Health Organization (WHO) to be sure.
ABOden? What blood type is he?!
WHO verified that the blood was indeed a unique sample. The Indian doctors named the blood type as INRA, "IN" for India and "RA" from the initials of the unique man. The doctors will also take blood samples from the man's family to do further tests, checking to see whether he's the only Alien in the family or there are others as well. *dum dum dum*
It was said that this man who possesses the rare type of blood cannot donate his blood to others, neither can his body accept other peoples' blood either. Poor man! What if there were an emergency?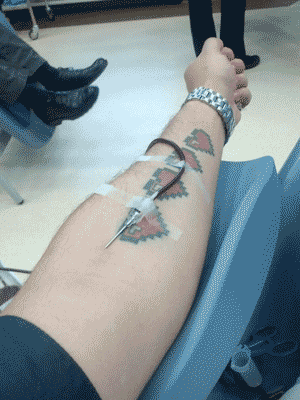 Besides this new blood type, in 1952, Dr. Y.M. Bhende from Mumbai (then known as Bombay) found another form of rare blood that did not belong to the ABO group either. He later termed it, the 'Bombay' blood group. This blood type is very rare as only 4 people in a million has it. People with Bombay blood type can donate their blood to anyone from the ABO blood groups but they cannot receive.
Definitely some very surprising news. Fingers cross that superpowers are a real thing!