Little Kitty Stuck In The Middle Of Jalan Kuching On a Rainy Day Saved By Myvi Driver & Motorist
Sometimes minor traffic can be caused by the most adorable reasons, and in this case, we should thank this Myvi driver for stopping traffic long enough for a little life to be saved.
The We Are Malaysians Facebook page took to their timeline to showcase a video of what looks like a typical jam in Jalan Kuching on a rainy day. A Proton Waja can be seen being blocked by a Myvi under an overpass while a motorcyclist rides up next to them.
Lo and behold, the only reason why the Myvi stopped in the middle of the road was because there was a little cat shivering and scared in the middle of road! The motorcyclist then stopped his bike, quickly picked up the cat and moved it to the side of the road, away from the cars and bikes.
We Are Malaysians wrote, "Jalan Kuching, KL. Salute and thanks!"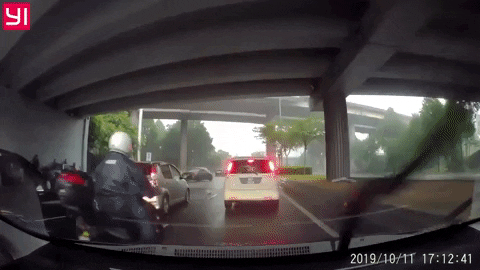 Let's hope the little kitty doesn't end up getting back onto the road or into any other trouble at this point, because who knows how many of its nine lives it probably has left.
I bet it's happy that these good Samaritans managed to keep it from losing any more lives.
We Are Malaysians's posting has since garnered over 41 shares.
Ironic isn't it, that there was a kucing on Jalan Kuching. 
Also read: Worst Storm In Japanese History Will Hit Okishima, an Island Inhabited Only by Cats