Here's Why This GE14 Made A REALLY Deep Mark on Malaysian History
You've done your part. You got your finger inked, and now your voice has been heard. Pakatan Harapan has won the simple majority and will form the new federal government, making this day a historical one in Malaysia's progress as a nation. But there is way more to this election than meets the eye!
1. Change in Government after 61 Years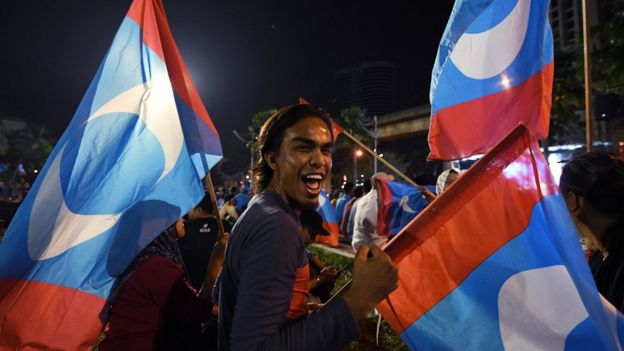 Source: BBC
Not only is it the FIRST time that the Opposition has attained the simple majority, but they have successfully ended the 61-year reign held by Barisan Nasional since independence.
2. Tun Dr. Mahathir Mohammad is Set to Become The World's Oldest Prime Minister!

Source: Bloomberg
Tun Dr. Mahathir who returned to politics from his retirement in 2003, will be the oldest prime minister in Malaysia, AND the world! At 93-years-old he has led the opposition coalition to a huge victory for Malaysian politics.
3. Dr. Wan Azizah Wan Ismail Could be The First Female Deputy Prime Minister In Malaysian History

Source: Channel News Asia
In all the years that Malaysia has been an independent country, never in our history have we had a female head of state. Dr. Wan Azizah has smashed that glass ceiling this 14th General Elections. Safe to say that the number of women in politics is set to see a huge increase as well!
4. A 22-year-old being the youngest candidate to be elected to parliament

Source: Nst
P. Prabakaran created another record as his victory means that he'll be the youngest MP ever in Malaysian history at the age of 22 and 3 months, beating ex-prime minister Datuk Seri Najib Razak who was elected at 23 years of age.
At only 22 years old, this 2nd-year law student first contested as an independent before being endorsed and placed under the PKR banner. In spite of his relative newness, he managed to win the Batu seat and got 38,125 votes — winning with a 24,438-majority votes!
What a day it has been for Malaysian politics! The people have spoken! Majulah Malaysia!
Also read: Malaysians Aged 21-39 Made Up Majority of Registered Voters In GE14