Elderly Man Sells House & Sleeps In Rickshaw So That Granddaughter Can Study To Become A Teacher
Grandparents would do anything to watch and help their grandchildren succeed, including selling their sole assets like a house so that their dreams can come true.
One elderly grandfather in Mumbai, India, did just that.
According to the Humans of Bombay Instagram page, Deshraj Ji, an elderly rickshaw driver, sold his house so that his granddaughter can go to school and study to become a teacher. He ended up having to sleep in his rickshaw at night, but he happily did it so that he could watch his granddaughter's dreams come true.
"Six years ago, my eldest son disappeared from home. A week later, people found his dead body in an auto (rickshaw); he was just 40. A part of me died with him but burdened by responsibilities, I didn't even have the time to mourn. The next day, I was back on the road, driving my auto," Deshraj Ji shared with the page.
But, sadly, tragedy struck again two years later, when his other son was also found dead by suicide. "I had given my two sons' funeral pyres, what could be worse for a father?"
His responsibility for his wife, daughter-in-law and grandchildren kept him going.
"After the cremation, my granddaughter asked me, 'Dadaji, will I have to quit school?'. I gathered all my courage and reassured her, "Never! You study as much as you want","
"I started working long hours, I'd leave home at 6am and drive my auto until midnight. Only then, would I be able to make 10,000 RS (RM566.28) a month. After spending 6,000 Rs (RM339.77) on their school fees, I'd be left with barely 4,000 Rs (RM226.51) to feed my family of seven," he explained.
His family ended up barely eating, and when his wife fell sick, he had to go door to door, begging for money to pay for her medicines.
"But, everything seemed worth it when last year, my granddaughter told me that she had scored an 80% on her 12th boards' exam, I was on cloud nine! The whole day, I gave free rides to all my customers. She said to me, "Dadaji, I want to do a B.Ed course in Delhi","
"Educating her in another city was way beyond my capacity, but I had to fulfil her dreams, at any cost. So, I sold our house and paid her fees. Then, I sent my wife, daughter-in-law and other grandkids to our relatives' home in our village, while I continued staying in Mumbai without a roof," he shared.
It has been a year since he sold their home for the sake of his granddaughter's education, and he regrets nothing.
"Honestly, life's not bad. I eat and sleep in my auto and during the day, I ferry my passengers. Just sitting, sometimes it hurts my legs, but then my granddaughter would call and tell me, "I came first in my class" and all my pain vanishes,"
"I can't wait for her to become a teacher so that I can hug her and say, "you've made me so proud". She's going to be the first graduate in our family."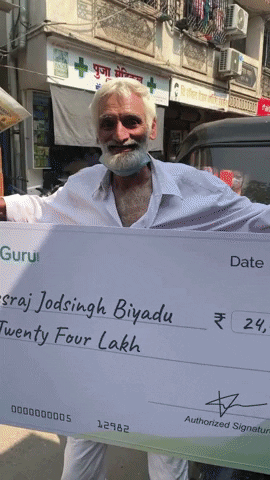 This uncle's story, which took the internet by storm, prompted netizens to create a crowdfunding page for him. They managed to raise a hefty 2.4 million Rs (RM135,937.19) and have since handed him a check for the amount.
"The support Deshraj Ji has received is immense! Because you all went out of your way to help him, he now has a roof over his head and will be able to educate his granddaughter! Thank you so much," shared Humans of Bombay.
Through the hardships he had to face, this uncle's optimism and enthusiasm towards his granddaughter's dreams is truly remarkable.
We're so happy and thankful for the help this uncle received from netizens. Hopefully, he'll never have to worry about his grandchildren's school fees ever again.
What do you think about this? Let us know in the comment section.
Also read: "Kill Me Instead," Burmese Catholic Nun Kneels & Begs Officers To Spare Her Children