There are currently on-going protests in Myanmar, demanding democracy following the aftermath of the military's ousting of civilian leader, Aung San Suu Kyi. This prompted the military junta to escalate its force by using tear gas, water cannons, rubber bullets, and even live rounds.
With so many people dying at the hands of the military, one image has since taken the world by storm.
The picture depicts a Catholic nun, as she kneels to the ground with her arms spread wide, pleading to the armed forces to spare the children who were under her care and take her life instead.
According to Channel News Asia, the nun is Sister Ann Rose Nu Tawng, who bravely faced the armed officers and even brought them to their knees.
"I knelt down… begging them not to shoot and torture the children, but to shoot me and kill me instead," she said.
The good sister, who runs a clinic in the town of Myitkyina, knelt to the ground to plead for officers to leave them alone after armed officers started showing up.
"The police were chasing to arrest them and I was worried for the children," she added. Thankfully, she was assured that they were just clearing the roads.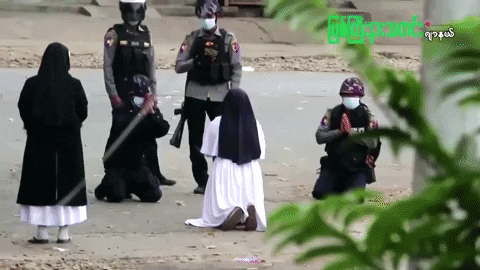 She can also be seen touching her forehead to the ground, along with an officer, before gunfire allegedly erupted around them.
"The children panicked and ran to the front, I couldn't do anything but I was praying for God to save and help the children."
They apparently heard loud gunshots, and sadly, even saw a young child's head explode from it, adding that there was a river of blood on the street.
"Our clinic floor became a sea of blood. We need to value life. It made me feel so sad," she explained.
We genuinely hope that everyone remains safe during this turmoil and that it all ends soon.
What do you think about this? Let us know in the comment section. 
Also read: M'sian Garbage Collector Turned Millionaire Takes Villagers On Free Helicopter Rides