16 Young Upcoming Local Artists Whose Art Will Mesmerize You
Image source: theantdaily.com
It is a great pleasure to report that in the age of fast-paced technology where social media (and selfies and pictures of food) is king, one of the oldest profession to date still holds true, not just by the by-gone legends, but also still carried out to this day by our own generation. Said old profession I'm referring to is none other than art in its purest and arguably original form: painting and the like. These are some of the country's most visionary young artists to keep a keen eye on, some of them even embracing modern social media for better exposure, making this a list of truly Gen Y Artists.
1. Husni Osman
Recently featured in the lifestyle section of "The Star" newspaper, this artist came from a unique background of being both a kampung and city boy, yet considers himself neither at the same time. Thus his first solo exhibition entitled, 'City' Boy, where his artworks reflect his feelings of being a straddler of sorts between the two worlds. His humble beginnings as an artist started when he was in school, when his interest in art was picked up by his parents and teachers, often asked to paint murals and join competitions. But as he grew up he did not go on to attend an arts college. Rather he had his friends who were fellow artists to show him the techniques. And so a full-time artist was born in 2008, first as a painter of portraits on the streets till he was discovered by curator Scarlette Lee of Core Design Gallery via his regular posts on Facebook. Now he is a rising talent locally and internationally, having had his works displayed in Germany and Austria.
                                                                                  Kampung Lebah Bena 
                                                                                    Tibetan Woman
His 'City' Boy exhibition was recently held at the Core Design Gallery, ending on the 15th May this year. But you can still check out his artworks via these links:
#http://malaysiacontemporaryart.coredesigngallery.com/tag/malaysia-contemporary-art/
#https://www.pinterest.com/minesartgallery/husni-osman-mines-art-gallery/
One notable piece (or rather pieces) from him is the Why Are You Wearing Those Blue Glasses?, a massive 6.7m wall piece comprising 36 portraits of people wearing, you guessed it, quirky blue glasses.
2. Haffendi Anuar
This Kuala Lumpur-based sculptor has quite the impressive background of having schooled abroad for five years in the USA, at the Rhode Island School Of Design and then at the Central Saint Martins College of Art in London. Just last month, in April, he had his first solo at the Richard Koh Fine Art, with an exhibition entitled, M13, after the block number of his Ampang studio. Loosely inspired by the ideals of a flaneur, the urban connoisseur who feeds on the city's sights and architecture, Haffendi Anuar's M13 is a depiction of KL's architectural elements, broken into four groups: Piloti (support pillars); Blocks; Grill Works; and Windows, consisting 64 sculptures in all.
The Piloti pieces are made out of bowls, mugs and saucers, with a rod connecting them together, held by sand and puttyfilla (a quick-drying filler of small cracks and such). The Block pieces were inspired by the colour schemes and 'boxy' shapes of low cost housing units while the Grill Works and Windows reflect Klang Valley's home security. Notably he had taken care of the thickness of the wooden frames of his canvas and metal grills so as to replicate actual grills for his Grill Works series.
You can view his artworks here.

3. Emilia Tan
Now this particular artist is, I have to say, pretty cool, as she upholds tradition together with contemporary art in the form of Batik. Yes, she is a Batik artist. Emilia, or else by her given name, Tan Mei Sha, was born in Selangor and had been a lover of art since the age of six. After high-school she went on to travel around Asia for further inspiration. In her travels, she came upon Aboriginal Art in Australia and was immediately captured by its beauty and so went on to stay in Melbourne to study more on them. It was in 2001, though, when she would be introduced to the art of Batik whilst studying textile and fashion designing at the Malaysian Institute of Art (another definition of M.I.A). And who should be the ones who made that introduction to her but the finest Batik artists, Fatimah Chik and Samsuddin bin Abu Bakar. From there she developed her own style, marrying the fine lines and dots as inspired by Australian Aboriginal Art or else European Art nuances together with the techniques of Batik. Hence her contemporary Batik art.
Emilia's Batik
She is also the mind behind TMSART, a batik workshop generating all sorts of batik products and then in 2011, she opened an art cafe to sell batik art at the National Textile Museum Malaysia.
Life III
She also has been awarded as one of the "Great Women of Our Time" in 2010 by the Women's Weekly magazine and as one of the "Top 10 of Creative Young Entrepreneur Award (CYEA) in 2011 by JCI Malaysia.
Check out more of her works here.
4. Cetak Kolektif
Standing from left: Zul Husni and Hazul Bakar; sitting from the left: Arson Ong, Faizal Suhif, Sahibis Md Pandi and Samsudin Wahab 
For those not speaking our national language, the name of this group of artists in English would be Print Collective, and true to their name, printmaking is their form of art. They are a relatively new art collective who had their debut exhibition entitled, Test Print earlier this year at the HOM Art Trans gallery. They are Samsudin Wahab, Faizal Suhif, Zul Husni Md Duan, Sahibis Md Pandi, Hazul Bakar, and Arson Ong, ages from 30 to 24 and they are on a mission: to make the printmaking art more relevant to Malaysia and also to wisely change the perspective of the general public with art. Said Arson Ong, "I've worked in galleries where visitors think the art is just for display. They feel art is too elite, too high-end. This attitude has to change." Hence print art, an art form that can be more easily accessible as they can be mass-produced.
Puan Otak Menyorok 
Lalat IV
Twenty-four of their works displayed were made in the usage of traditional print techniques, woodcut, drypoint, silkscreen, linocut, acid and aquatint etching. The collective is also aiming to be a sort of training ground for younger local artists of this art genre, planning to have at least one show per year while supporting it with workshops for members and students.
They had a great start for their first exhibition but co-founder Samsudin Wahab had not been fully satisfied, as he went to say, "Since the technique is difficult, the ideas behind the pieces were not fully explored," believing that technical art would just be a gimmick if not done with proper concept. Then he cheekily concludes, "But it's okaylah for a first try, that's why this exhibition is called Test Print".
Check them out on their Facebook page here.
5. Nizam Abdullah
Now here's another sculptor with an impressive resume, what more with the fact that he can be said to be totally home-grown, having had graduated with a diploma in Visual Digital Art from our very own Lim Kok Wing University. From then he went on to be engaged as a Life Drawing lecturer and also the Resident Sculptor for his alma mater. Today, he is widely known for his signature metallic sculptures that you've probably already seen around, as they are often put on display in public places – one of which this writer has spotted in Fahrenheit 88. It's safe to say that his artworks can be related to the everyday people due to his use of everyday materials of metal cans and such.
He has also been involved in many endeavours, such as the Doha SEA Games in 2004 as a Project Assistant for the Mascot Monument, creating a 23ft standing human figure and won consolation prizes for the Calvin Klein Perfume Art competition in 2003 and the Daimler Chrysler Malaysia and Goethe Institute Art competition.
His latest art series is called Fighting Rooster.
You can see more from him here.
6, 7, 8, 9. Nazri Tahir, Tan Lu Man, Husni Othman, Yuki Tham Yoke In
From left: Yuki Tham Yoke In, Nazri Tahir, Tan Lu Man, and Husni Othman
These four are put together this way not because they are an art collective but because they had recently been featured in the HOM Art Trans together in an exhibition called Figure Out, an interpretation of the human figure, which is something this quartet of artists have in common despite their different backgrounds: figurative art. Each are pretty much the latest to burst into the local art scene. Tan Lu Man and Yuki Tham Yoke In are from the Dasein Academy of Art while Nazri Tahir and Husni Othman are from MARA University of Technology (UiTM) respectively.
Whisper by Yuki Tham Yoke In
Hujung Minggu by Husni Othman
Dot Daisy by Tan Lu Man
Second Chance by Nazri Tahir
10. Haafiz Shahimi
This artist is literally lighting up the local art scene – with the fiery technique of pyrography. Usually described for the art of decorating wood or other materials with burn marks, this Kedahan UiTM graduate took pyrography to a whole new level by cutting metal blocks into the desired shape to be heated up and pressed onto a PVC canvas, resulting a, pardon the pun, hot piece of art. He admits that he is greatly influenced by the Tokyo-born, Seattle-based artist, Etsuko Ichigawa.
His debut solo exhibition was held last year at the Core Design Gallery, entitled R.A.G.E, Raising Awareness of Greater Existence, which not only feature his pyrographic pieces but some of his oil paintings and charcoal drawings as well, showcasing his strokes of bold movements, a dead giveaway to his awesome background as a B-boy and silat practitioner. Fish tend to be the highlight of his theme though he also incorporated the technique of wayang kulit to one of his pieces. One notable piece is his self portrait, Self-Fish, where, yes a school of fish are formed into the image of his face.
Have to say, this artist is on fire. (Alright, I'm done with the puns)
To see more from Haafiz Shahimi, check him out here.
11. Donald Abraham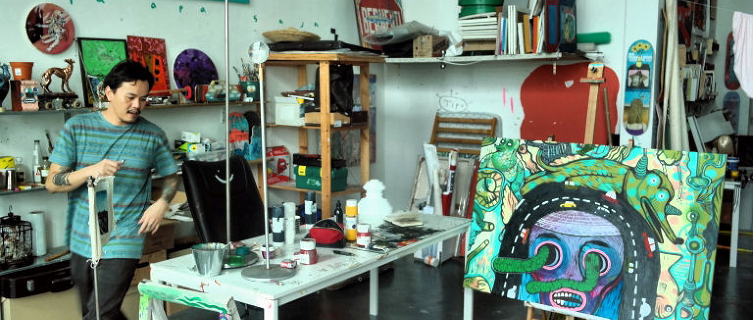 Here's another artist with a cool background, this time a skateboarder. So it's really only apt that he be an urban artist, specializing in graffiti and street art. Born in Labuan, Donald Abraham has already been sketching long before before he learned how to read! Now a young father in his 30s, he is one the country's rising stars in the art scene, highlighting the ever growing popularity of urban art in Malaysia. His pieces on wall canvases now sell up to $5,000 per piece. In spite of his very fresh and modern image, his beginnings as an artist are not unlike something out of classic literature, having an arrangement of "master and apprentice" sort with the country's prominent naïve art artist, Yusuf Gajah. As the story goes, Donald Abraham's earliest works traces his mentor's naïve art style till he found his own niche that stands today.

For more on Donald Abraham, click away here or here.
12. Pangrok Sulap
Now we go over to the Bornean side of the local art scene and say hello to Pangrok Sulap, a Sabahan art collective whose mission is to honourably inspire social change and activism… with youthful punk rock attitude! Their name itself says it all, Pangrok meaning punk rock and Sulap meaning a farmer's resting place or hut. They are Jerome Manjat, Rizo Leong, and Mc Feddy and they are all from the Dusun ethnic community, mainly based in Ranau. Their brand of art are mostly done with woodcut prints, using hand tools, sketching, carving and painting the prints all by hand, all of which done expertly, thanks to their background of tailoring, carpentry and T-shirt printing. Originally meant for a cartoon they made, reflecting their little town's everyday life as well as producing T-shirts and designing poster for Ranau's punk music scene back in 2010, Pangrok Sulap has grown into an artistic activists hub. They have held workshops around Sabah, showcased their artworks in the Klang Valley, helped fix a water pump in a remote village and even got the authorities' attention when they posted posters announcing the problems of elderly vendors getting kicked out by illegal cigarette traders.
True to their punk aesthetics, their art often are made to specifically to send a message or highlight their concerns effecting society. For example, the issue of illegal immigrants; the already mentioned traditional trade vendors being ousted by illegal cigarette imports; the 'Project IC' case, tourism in Sabah priced out for locals, and even inspiring DIY (Do It Yourself) messages and a tribute to Eleanor Goroh, a bead artist and also fellow activist.
They also recently had an exhibition entitled, Peasants and Proletariats at the Xin Art Space.

Check out for more of them here!
13. Haris Rashid
The youngest artist to be featured in this list at the age of 23, Kedah-born and KL-based Haris Rashid is fast becoming a major name among the rising talents to have come up in local art scene. He just had his first solo exhibition, Beauty in the Beast, held at Artemis Art in April this year, featuring his signature love of nature, this time around mainly focusing on expectedly "beastly" animals such as tigers, wolves, bears and others. The exhibition showcased 20 pieces which he had made with mixed media of acrylic, colour pencil, watercolour, and pigments, priced from RM480 to RM6,880. He named his mother as the main reason he got into art, who also taught him all the techniques. His painstaking details reminiscent (at least to this writer) of ethnic carvings and tattoo designs are commendable.
Even before his solo, his art had already been seen in the public eye via Instagram, when he had made a huge scale kolam for Deepavali at Publika as well as his collaboration with Just In Case, a concept store specializing in trendy in-house designed handphone casings – in which case they had incorporated Haris Rashid's art into their designs.

View more of his art here.
14. Muid Latif
Here's where art evolves in the digital age – I'm talking about digital art, of course, the art genre combining, ahem, beauty and the geek (is it okay to say that?) Anyway, here's one practitioner of this digital art form. He was a graduate in Fine Arts of UiTM and went on to become first a Multimedia Designer for web agencies on online projects like Maxis Hotlink, Toyota, National Science Centre, etc. Then he went on as an art collective, Digital Malaya Project, holding exhibitions around the world. He was also the first Malaysian digital artist to perform a live digital art with the Malaysian Philharmonic Orchestra for the KLCC Art Festival, organised by Galeri Petronas. Today he has emerged as an icon in Malaysia's digital art scene, making a name of himself as the third generation digital artist, constantly promoting the culture of South East Asia in his works.
Hijrah Jiwa Ke Marikh   
Da-Ps: Momento B
In 2012 Muid Latif is certified as N.O.S.S Creative Industry Expert from MSC Malaysia and Ministry of Human Resources (DSD) and is currently the Behance Malaysia Ambassador and the official Adobe Influencer and Lead Project of Creative Commons Malaysia, making it his mission to provide opportunities to upcoming local designers and digital artists.
To know more about him, check out this page here.
15* Kinki Ryusaki
Hey, now, this is a list of upcoming young local artists and we've covered traditional painting, batik, printmaking, digital art, sculpturing, comic, and even pyrography, so tattooing should not be excluded. To quote the artist, herself, "The art of tattooing is like the art of life. Once inked, never forgotten and it stays forever." And even though she may be known for being Malaysia's sexiest tattoo artist, there is truly more than meets the eye once you learn her incredible story.
Kinki Ryusaki, real name Wong Wei Yin has been practising the art of tattoo since she was 16 years old. Sadly, due to financial constraints, she could not continue her secondary schooling education. So at the tender age of 14 she applied herself to work at a hair salon to support her family of six. It was when a customer, who was a tattoo artist, walked into the salon where she worked at that piqued her interest in tattooing. From there she quit as a hair dresser and went to the Bloody Ink Tattoo Studio to ask (and eventually beg) for an apprenticeship with the founder Water Chan. Proving herself as a fast learner despite her lack of background in drawing or painting, Kinki Ryusaki progressed from generating RM500 per month to 20 times that today.
True to her adopted name, she particularly prefers the Japanese style as well as black and grey, portrait tattoos. She has since gained such a popular name in the tattooing world that now she has a waiting list that can last up to months, having customers from around the world come to the country just to be tattooed by her!
See more of Kinki Ryusaki here.
Her tattoo parlour's address is: Publika Shopping Gallery – Office Lot, C2-2-5, Block C2 (2nd Floor), Solaris Dutamas, Jalan Dutamas 1, 50480, KL
16. Teja Nadina
She is the rawest and feasibly the most unique artist to have come around by far not due to her techniques per se but how her first exhibition of sorts came about – through a TV series where she, herself, played the artist! Five years ago, she starred in a supporting role as the character Selasih Dara, a rebellious artist from a privileged family, in the drama thriller TV series, "Tertawan" which was aired in RTM. She had specially painted an impressive wall-sized piece depicting the main character's childhood home for the series, as well as various portrait sketches, some of which included her fellow actors' as their respective characters, which was incorporated into the story as her own character's exhibition entitled, Wajah. Not to mention some of her own works she had previously done were also prominently displayed as Selasih Dara's paintings and in another character's house.
Aspalela's House
As can be seen in her works, it is a marriage of classic European influences with her signature style of human figures and bursting bold colours, often depicting fantastical landscapes and stories with a realistic approach. Quite impressive, considering she had no previous experience of schooled art techniques from anyone at all! It was through her Art History studies where she learned to observe how the masters had painted and she went on to practise by copying the painting with her own unique interpretation, with Buncho poster colours – you know the standard paints given to school children. Hence the marked untouched rawness in her signature of art. Today she still faithfully uses Buncho as well as acrylic, oil pastels, and colour pencils.
As a pretty elusive and private person, this writer went out on a limb and managed to gain an exclusive interview with the artist, now that she has very recently started posting her artworks online with her contact details. So here's the 411:
*She has been home-schooled since the age of 15, where she was educated in all sorts of impressive subjects such as the aforementioned Art History, Literature, Geography, Philosophy, Psychology, World History, Multimedia, and Spiritual Studies.
She comes from a background of "show business", with Baharuden Kader, the renowned TV producer and director as her father and Helena Azlini (known in the past as Aziza.J), the reputable scriptwriter as her mother – but she is the only one who turned out be an artist, a career fully supported by her family, though from time to time she works as a production crew and actress in their projects, one of which included "Tertawan". She went on to add, "So you can say I'm pretty lucky and blessed to have opportunities like this with the closest kind of network you can find."
On further prodding for future works, Teja Nadina had confirmed that she is working on many projects, including her own novel that would feature her new paintings as illustrations and also hinted that she is also currently preparing more works for a future film. Remember, you heard it here first!
Check our more of Teja Nadina's artworks here!
Whew! Now that sums up the incredible list of the local artistic talents. Let's conclude with a well-deserved round of applause and give it up for these young local talents who continually prove that we Malaysians rock!!