11 Travel Hacks Every Malaysian Must Know Before Going On Their Next Adventure
Like us on Facebook for great stories daily!
Listen to this post:
Going on a holiday is not as easy as we'd like it to be. Although we often fantasize about just spontaneously getting up and go, in reality, there's so much more to consider especially in terms of time and money. It's not cheap to go overseas but here are some hacks that will help you save a substantial amount of money and take you on an adventure like you've never been before.
1. Use Skyscanner/Traveloka to search for the cheapest flights
My world opened up after I found out about Skyscanner or Traveloka or other sites alike. The website/app collects data of all flights, allowing you to check for the cheapest flights according to the selected date. They'd even pair you with different flights (eg. outbound through Malindo and return by Air Asia) if tickets are cheap. If you don't have a specific timeline, you can even check by your flight priced by sorting through the cheapest dates or cheapest destination.
They even have the option to choose "Any destination" and/or "Any day" so you're shown with flights to the cheapest location or cheapest dates. The convenience!
2. Follow AirAsia very closely
AirAsia is known to give out crazy deals so you'll need to keep a constant eye out for them, especially their free seats promo. Prices go as low as RM150 for return trips to Thailand! You just gotta beat every other Malaysian and grab them before it runs out!
3. Go Incognito when checking flight tickets
Refreshing your browser won't let you find better deals, in fact, websites for flights/hotels are able to track your previous records so the next time you visit, the price may be higher than it initially is! It's what people term as 'dynamic pricing'.
To avoid these, go incognito so cookies won't be stored. No, not that kinda cookie!
4. Best way to pack is to roll up you clothes
If you travel often enough, you'd know that rolling up your clothes is the best way to pack. Rolling them up saves you massive amounts of space than folding it the conventional way. Pack everything smartly and you don't even have to pay for extra baggage. Sides, it reduces wrinkles too!
5. Hitchhike to get to your next point
Many people frown upon hitchhiking but it wouldn't hurt to try it out every now and then. Some of the best stories I've heard were from hitchhiking. For instance, a lovely couple on the way to the city didn't mind to 'tumpang' a traveler friend of mine and they even offered him an extra room for the night. The generosity of strangers are one of the best memories that stay with you for a long time and is the one that makes traveling so great.
Yes always keep in mind that it could get pretty dangerous so be extra careful if you're ever going to attempt to hitchhike.
6. Free flow booze on flights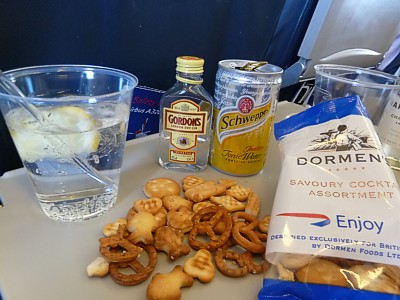 Flights like Emirates, Etihad, Cathay etc offers alcohol upon request. You can choose from beer, whisky, vodka or even wine. How is this a hack? Dood, it's FREE BOOZE. Sides, it'll definitely help you sleep better on long flights.
7. Couchsurfing
Couchsurfing is hands down one of the best ways to travel. For one, it'll let you save up on accommodation money because it's a platform where people let out their rooms/couches for free! Yes free!
Their website is pretty easy to navigate around. Just input the name of the city you're traveling to and viola, it'll display all the cool hosts that are letting out a spare couch or bed in their home.
Couchsurfing (CS) is a community for travelers so hosts don't only let you stay at their place but take the liberty to show you around their amazing town/city. Usually there are weekly CS gathering events for travelers to meet up and exchange cultures. You'll have the opportunity to meet all the amazing people and experience adventures the local way!
8. See extra cities for free
Though some people cringe at stopovers and prefer direct routes, few others embrace them and take it as the perfect opportunity to visit an extra city. Some airlines offer free stopovers which means you have an extra destination to visit without purchasing any extra ticket. It's literally like killing two birds with one stone. Plus in-direct routes are usually much cheaper too!
9. Book via trusted sites with ongoing promotions
Yes, it does get skeptical sometimes when you're buying off a third party site and yet, they are selling for much cheaper than the official website itself! How does that even work??
Well, take Traveloka for instance. They are actively giving out discount codes up to 60% for flight and/or hotel bookings. No, there's no catch, but just a way for them to build brand awareness, so get your hands on em promo codes while you can!
If you're ever skeptical about a booking site, ALWAYS Google and read up on their reviews. For example, third party websites like Tripsta and Bravofly has earned themselves a pretty bad rating for their disastrous customer service. Customers have complained how they are unable to get refunds when their flight got cancelled.
10. Always search for discount codes online
The internet is a pretty amazing place. Before making your purchase, take some time to hunt for discount codes online – there's always a ton. If you're patient enough, you can save quite a few dollars (which is a substantial amount in Ringgit). Trust me, I've tried it, especially for sites like Airbnb.
11. Indulge in unlimited Wi-Fi through Travel Recommends
Travel Recommends offers the cheapest rates for unlimited WiFi. I repeat, UNLIMITED.
For prices as low as RM15 per day, you can keep your traveling experience at an all time high without losing connectivity with the online world. You'll also never have to worry about being disconnected from social media again because let's face it, we all want to upload our picturesque shots of the foreign city or beaches we're in!

Image credit: Doris Hor & Jessica Chaw
What's great about it is that it lets up to 5 devices connect to it so you and your friends can kongsi and split the bill together. 
For instance if you go to Seoul/Tokyo, the daily rental rate will only be RM15, hence if you split among 5 friends it will only be RM3.00!! No need to worry data run out some more! To get more info about the unlimited WiFi or reserve one, click here.
Also read: Luxury Vacation Home Company Will Pay You RM45,000 a Month Just to Travel the World!
Like us on Facebook for great stories daily!