Watch: M'sian Sound Engineer's Adorable Reaction As He Gets Completely Stunned By a Singer
Everyone experiences that love at first sight moment at some point in their life, but it's rare to actually capture those moments in all their candidness.
However, one netizen managed to capture something quite like that magical moment – and one that can very well demand a place amongst the cutest moments in Malaysian internet history.
Richard (@nurrizzatii) took to Twitter to share a video of her friend Dalia (@daliafarhana) singing Ed Sheeran's Perfect at what could possibly be a wedding. But what makes this video unbelievably adorable was the sound engineer's reaction to Richard's friend singing.
Comel je dj tu 😂 @daliafarhana pic.twitter.com/imSFr49hq3

— richard (@nurrizzatii) July 6, 2019
The video starts off with both the sound engineers fiddling with their equipment as the intro of the song plays. The moment Dalia started singing though, the technician on the right immediately whips his head to face her, with the most awestruck expression on his face (and for good reason too because she sounds amazing!).
Unable to contain his surprise, he grabs his phone and starts to record Dalia as she beautifully continues the song.
Richard captioned the video with, "The DJ is just adorable," while the text in the video says, "The DJ was so shocked, relax brother."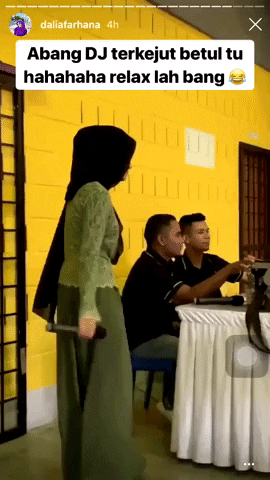 Netizens took to the comments to react to the moment, praising the fact that the moment was immortalised and of course, to tease the technician for his reaction.
This comment reads, "He's so obviously shocked."
This comment says, "Maybe that's his soulmate, he's totally stunned."
This comment goes, "So cute! It's like love at first sight."
At the end of the day, both Dalia and the technician won some hearts.
That said we're still not sure if the sound engineer has won (or will ever win) Dalia's heart the way she clearly won his considering it takes two to tango, consensually of course. But we wish him luck, because who knows, he could be the technical backbone to her future musical endeavours.
Richard's posting has since garnered over 19,300 retweets.
Now, if only someone looked at me the way he looked at Dalia.
Also read: "Boys Might Get Horny", M'sian Girl Rants About Why Women Are Told to Hunch When Walking