Watch: M'sian Driver Kantoi When Using Emergency Lane to Skip Traffic, Gets Stopped by Police
Getting stuck in traffic jam is a common problem Malaysians face on a daily basis. It cannot be avoided unless you're one of those drivers who tries to find shortcuts by rudely skipping the long queues.
One of the most common ways Malaysian drivers do so is by using the emergency lane – which, as its name spells out, is for EMERGENCIES.
That lane is most often used by ambulances that are rushing a patient to the hospital, or for motorists who are in a similar situation. Using the lane just to skip traffic is NOT an emergency, thank you very much. 
However, drivers still use it to escape traffic jams because Malaysia boleh. Well, this particular driver had to learn the hard way when he chose the wrong time to use the emergency lane.
On 27th November, a motorist's dashcam managed to capture a video driver in a Perodua Axia (no, it's not always Myvi), zooming past slow-moving traffic on the emergency lane. He immediately tries to squeeze back into the traffic after turning his right signal lights on.
Suddenly, a police car is seen approaching behind him, which may be the reason why he tried to squeeze back into traffic to make way for the police. But the police wasn't trying to get past him, they were after HIM.
No audio can be heard from the video, but the police must've blasted their sirens to get the driver to pull over, which he eventually had to do as the police didn't seem like they were going to let him go.
So, he pulled over while the police stopped behind him and probably issued a summons.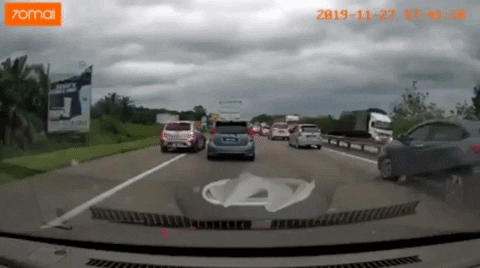 Here's the full video:
— 999 Malaysia 🇲🇾 (@999Malaysia) November 27, 2019
To be fair, the Axia might've had a real emergency and really needed to use the lane. In that case, we hope he wasn't stopped for too long.
Also read: Watch: M'sian Motorist Knocks Ambulance Off Road Near Genting After Swerving Into Emergency Lane