Let's just all face the facts, bowling is not easy.
Most of us normally get the bowling ball in the gutters at the side of each lane, but it truly takes a skilled person to get the ball into the ceiling.
And we've officially found that person in Malaysia!
4 (@hazrilazharudin) took to his Twitter account to showcase the mind-blowing moment when a man in Kuantan, Pahang threw a bowling ball intended for the pins, but ended up having it go through the ceiling of the bowling alley, before he fell to the ground after stepping on the slippery floor of the lane.
Kejadian berlaku di Kuantan. Bowling strike ke bulan 🌓 pic.twitter.com/6ETipvZsa6

— 4 (@hazrilazharudin) January 5, 2020
4 captioned, "Happened in Kuantan. Bowling strike to the moon."
The slow-motioned video showcased every single detail of the incident somewhat gloriously.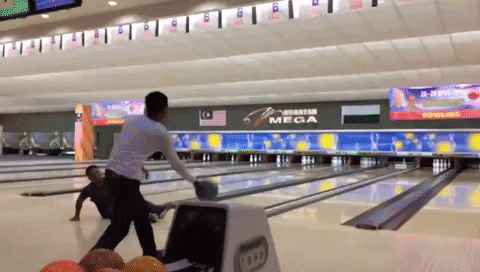 It's still unconfirmed if the man had to pay for the damages or if anyone got hurt considering the video didn't showcase the bowling ball falling back to the ground.
Maybe it's in a different dimension now.
4's posting has since garnered over 30,500 retweets.
Let's just hope the bowling ball doesn't come stumbling down on someone's head!
Also read: M'sian Mum Thought Her 7yo Son Stole Money at School, But He Was Selling Grasshoppers