Watch: Bezza Drives Through Motorcycle Tunnel On Federal Highway, Motorcyclist Yells At Driver
Navigating your way through certain roads in Malaysia can be quite confusing and it is no surprise when some drivers accidentally find themselves in lanes specially built for motorcycles. By the time they realise they are in the wrong lane, it is too late to back out and they'd just have to keep moving forward to find a way out.
In a video posted on Facebook, a Perodua Bezza is seen driving through a motorcycle tunnel on what looks like the Federal Highway. Several motorcyclists can be seen trying to manoeuvre their way around the car.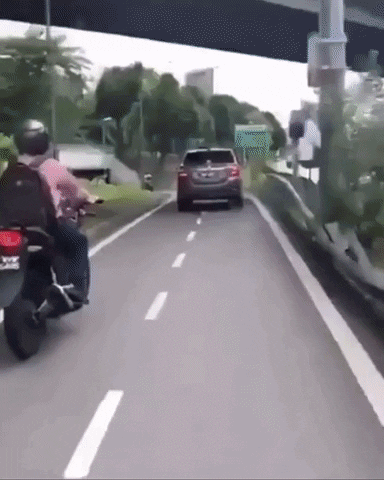 One motorcyclist moves in front of the car, blocks the road and starts scolding the driver, who looks like a middle-aged woman, for using the motorcycle tunnel.
Some netizens commented that the driver must have been following a navigation software and accidentally drove into the motorcycle lane while others criticised the motorcyclist for scolding the poor woman as she must have been in a state of panic.
"There is a way out in front. Screaming at the driver does not solve the problem," one netizen said.
Here's the full video:
This isn't the first time a situation like this has happened, of course. Just a few weeks ago, a white Toyota Vios was seen to have somehow made its way onto the designated motorbike lane located along Federal Highway.
The motorcyclist who was filming the entire incident wound up finding himself in a minor collision after attempting to swerve out of the way of the Toyota after it had appeared without warning from inside an underpass.
What do you think about this? Let us know in the comments.
Also read: Caught on Camera: Toyota Vios Drives on Motorbike Lane, Causes Accident & Flees The Scene