Watch: Another Cheapskate M'sian Tries to Escape Toll But Tries AGAIN When First Attempt Fails
Another Malaysian driver strikes again with their cheapskate behaviour of not wanting to pay for toll. BUT THIS TIME, the driver was so desperate to get a free toll fare that he attempted to escape payment TWICE in just 30 seconds!
A video that was posted on Twitter shows a red car entering a toll booth and driving really really close to the car in front. This kind of behaviour is easily recognisable as that of a driver wanting to escape payment, which the driver in front must've realised. So instead of continuing with his journey, he stayed put and did not move.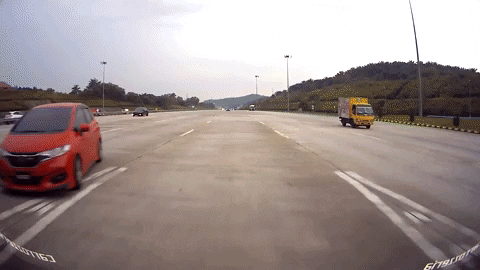 However, realising that the car in front wasn't moving, the red car driver immediately steps on the reverse pedals and zooms back out of the toll booth! He then makes a quick turn to the right and tailgates another car that had just entered the adjacent toll booth.
This can still be seen in the video and we have to thank all the faithful rear dash cams for capturing these cheating drivers.
The red car once again gets really close to the driver in front, who is driving a four-wheel drive, and tries to pull off his 'stunt'. But just as the four-wheel drive was about to drive off, the first car turns over and tries to block his way in order to trap the red car.
At this point of time, the red car is stuck right where the boom barrier closes. And not being able to go anywhere, it looks like the boom barrier actually closed on top of the red car, but it immediately springs back up.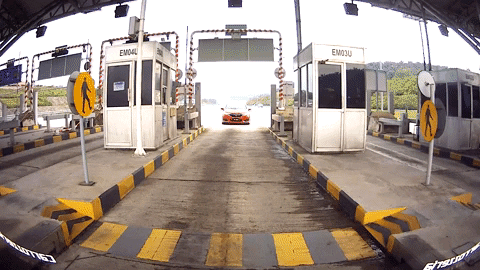 The four-wheel drive then drives off as the red car maneuvers its way out of the toll booth.
Watch the full video:
Ikut rapat kereta di hadapan untuk elak bayar tol, sekali kemalangan & terus cabut lari. Ingat, tak semua yang pakai H banyak duit! pic.twitter.com/RjjgLXPgXt

— MyWatch (@My_CrimeWatch) October 7, 2019
A netizen who saw the video went to check how many times the red car had kena saman, and unsurprisingly, the red car driver has already received eight samans amounting to RM1,500!
Upon further 'investigation', netizens were actually able to identify the culprit and have even created memes about the guy.
Here's the post:
Another netizen also reported that a police report had been made at 8pm on 7th October 2019 and at 9.15pm, the owner of the red car deactivated his Facebook account.
There's so much juice to this story! Hopefully we'll be updated about what happens next and that the culprit will get what he deserves for cheating the system! 
Also read: Watch: This M'sian is So Cheapskate That He Follows Car In Front to Escape Paying Ticket at MidValley