Video: Vellfire Flips Over After Myvi Crashes Into It At Glenmarie Intersection
We all know that the Perodua Myvi, or as some would say, The King of Road, can be a really tough car with all the videos we've seen of the hatchback car driving through floods and over curbs with ease. But I don't think we've seen all that a Myvi is capable of yet.
In an accident that took place on 11 January near Glenmarie, Shah Alam, a video shows a Perodua Myvi colliding with a Toyota Vellfire at an intersection.
Both the vehicles seemed to be going at a relatively high speed as they approached the intersection where the white Myvi hit the rear end of the black Vellfire. This caused the Vellfire to flip to its side and even rolled over on the road.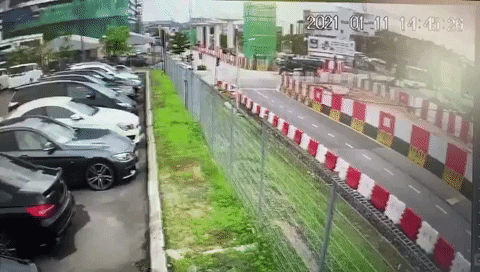 In another video, the Vellfire can be seen on its side while only the front of the Myvi was damaged.
Fortunately, no casualties were reported during the accident.
Many netizens in the comment section said that all drivers should be careful when driving near intersections and slow down even if the road is empty as accidents like this are always bound to happen. Others didn't hesitate to comment about how powerful the Myvi is.
Also read: Watch: Myvi is Back With Full Force, Drives Through Kota Tinggi Flood Like It's No Big Deal!