Video: Boys Running Across Busy Highway to Jump Into Pond Ends With Horrifying Death
WARNING: GRAPHIC CONTENT
A horrifying video shows a young boy getting hit by a car that was going at full speed while he was running across the road.
However, it wasn't the driver's fault as the boy and his friends were risking their lives while playing at a small pond at the side of the road.
In a video posted on Twitter, about 10 boys in their underwear can be seen playing in a big puddle of water that had collected in a small ditch at the side of the road. But this wasn't just any kampung road, but an actual highway!
They would wait for cars to pass by before running to the middle of the road just so they had space to run and jump into the pond. Some of them were almost hit by vehicles, but they still continued playing, as if they didn't know how ridiculously dangerous it was.
However, the inevitable happened when one boy crossed the road and was unexpectedly hit by a speeding car that sent him flying in the air and landing several meters away.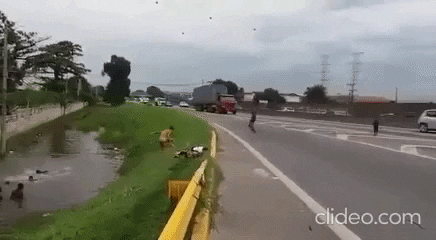 His body can be seen lying motionless on the road as passers-by gathered around him.
Here's the full video:
Many things about this story are unknown, like what happened to the boy or where the driver went, but comments in the video say that this incident happened somewhere in Brazil.
There are just so many things wrong with this incident, like how recklessly these boys were running across a busy highway just because of a small pond, and the fact that the person recording the video did not do anything to stop these boys.
RIP.
Also read: Video: Horrifying Moment When Car Knocks & Runs Over Boy Who Crossed the Road Without Looking