Poor Pet Cat In Melaka Left In Cage Outside House By Insensitive Owner During Freak Storm
Sometimes, it's better to be a stray animal. It's no secret that they have it tough but at least they have freedom compared to pets who have to live under the reign of irresponsible owners.
For example, one pet tabby cat in Melaka had to suffer through the freak storm that happened yesterday (11 August) because its owner decided to keep it caged outside, in the rain.
The Malaysia Animal Association took to their Facebook page to call out the irresponsible owner for leaving their cat out in the cold, with no shelter from the rain and strong winds.
They wrote, "Not all cats with owners are happy. If a cat gets an owner that has no feelings, the pet cat will suffer. A stray cat can always run away when faced with a storm. This pet cat is caged outside a house without much of a choice. Rain or shine, it has to endure it. Owners who put their cats in cages outside their homes need to examine the risk of rain and heat when placing their cage. This incident happened in Taman Pengkalan Jaya, Ayer Molek, Melaka."
The poor cat can be seen clinging to the side of its cage as the rain falls heavily around it (and it's no secret that most cats hate water).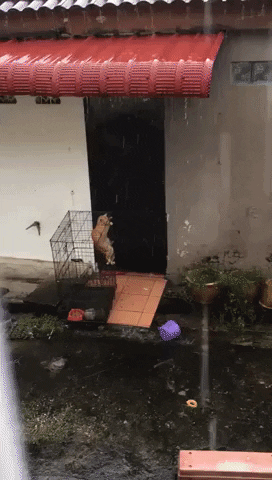 And the worse part is that this apparently isn't the first time this has happened.
"According to the complaint, this is not the first time. This incident has repeated many times and the owner has remained stubborn in leaving the cat outside like this. If this cat continues to be neglected even after the owner receives the Notice of Improvement, the Animal Welfare Act 2015 should be enforced in order to educate owners who are insensitive towards the welfare of their pets," Malaysia Animal Association added.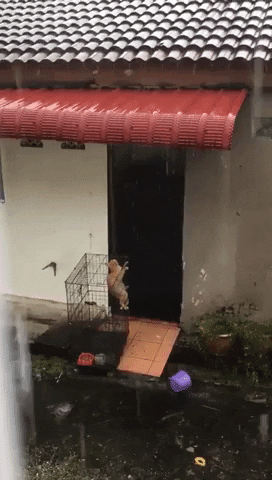 This incident is now being monitored by the Melaka State Veterinary Services Department (DVS).
I mean, we've been told many times that pets are a huge responsibility. This is because they're living, breathing creatures who have simple needs in life, just like us.
If you're going to own a pet but just keep it in a cage with no proper shelter, the pet would be better off as a stray where it can look for shelter on its own.
We genuinely hope that the cat's owner sees the error of their ways.
Stay tuned for more updates. 
Also read: Cat In Bandar Tasik Selatan Flat Parking Lot Allegedly Purposely Run Over By Cruel Driver