Puppy Sent For Boarding To Petsmore Kota Damansara Hangs To Death After It Was Left Unattended
Disclaimer: This article contains images and videos of graphic nature. Viewer discretion is advised. 
When you send your beloved pet to a care provider, you'd expect top-of-the-line services, especially since you're paying good money to ensure your furkid is kept safe and comfortable, right?
Sadly, that wasn't the case for Jayanth Sridhar, as his poodle puppy, Peanut, had died at a Petsmore outlet in Kota Damansara, after it was left unattended on a grooming table before it slipped and fell, choking on its leash.
Jayanth took to his Facebook page to recount the incident, which took place on 5 October, after he had received an emergency call from the store upon returning from a short holiday.
He wrote, "We write this post with a lot of sadness and pain, having to go through the loss of our beloved 5-month-old toy poodle puppy, Peanut, to the shameful negligence of the staff of Petsmore. We entrusted Petsmore with out puppy to take a short holiday. On the day of the return, 5 October, we received an emergency call from the store, that there had been an accident."
"Upon reaching the store, we were informed that Peanut had passed away and that he had fallen off the grooming table (this was one of many stories they told us, all lies)."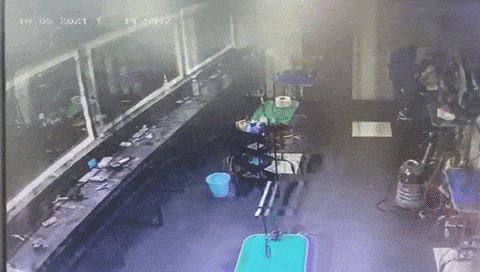 Upon checking the CCTV footage at the store, they managed to shine a light on the incident.
"The staff had removed Peanut from the play area to tend to another customer. Instead of putting him back in his crate, they put him on a grooming table with a leash and left him unattended. The staff continued to groom another customer's puppy at an adjacent table and paid absolutely no attention to Peanut, who was uncomfortable being left alone on a table that high up,"
"Peanut slipped off the table and choked on the leash."
"He was struggling for close to two minutes and with no attention being paid by the staff. After struggling to breathe, he passed away hanging and was in that position was close to two and a half minutes before the staff realised what had occured," he explained.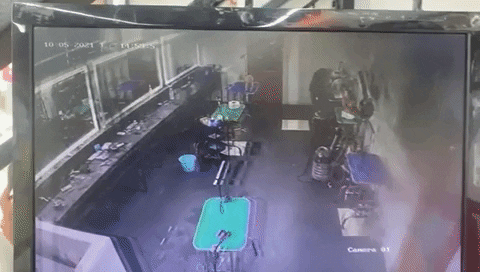 The most shocking aspect of this incident is that, based on the CCTV footage, you can see a staff member sitting directly behind Peanut as it struggles and chokes, but they did not notice it happening at all.
Jayanth emphasised that the post was to spread awareness on the following point:
Why was a boarding pet (that young) left unattended on a grooming table?
Why was there no proper procedure to move pets around within the facility?
Why was the CCTV not being monitored to see such incidents?
What is going to be done to ensure this kind of carelessness does not occur?
"Beyond what has happened, the most astonishing thing is that Petsmore does not care and did not make any attempt to reach out to us for close to 48 hours (apart from one staff member who was with us throughout this ordeal),"
"Even when they did, it reeked of trying to keep everything under wraps," he added.
Another thing that he emphasised was that,
"Absolutely, nobody should go through such an experience."
Losing a pet can be an upsetting experience, especially considering they are more like family members than furry companions, but losing a pet in such an unjust manner is just plain heartbreaking.
WORLD OF BUZZ has since reached out to Petsmore Malaysia but they have yet to revert back with a statement.
You can watch the saddening video here.
What do you think about this? Let us know in the comment section.
Also read: M'sians Mock Poor Monkey That Was In Misery From Being Tied Up & Unable To Move Around Freely