No, The Annabelle Doll Did NOT Escape From The Warren Museum Because IT'S A DOLL!
Unless, of by any chance you were under a rock or somewhere, you would definitely know the Annabelle doll. Even if you didn't know the doll, you would definitely remember the chilling movie adaptation and subsequent sequels.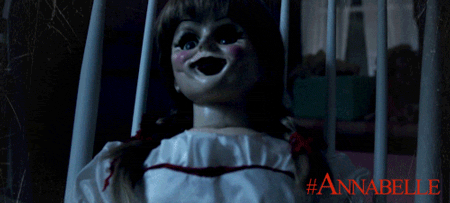 Now, although the real-life Annabelle doll doesn't look as creepy, the history behind it is equally terrifying. The doll was acquired by demonologist duo Ed and  Lorraine Warren in the early 1970s. A nursing student received the doll and soon after she and her roommate began facing disturbances in their house.
It reportedly contained the spirit of a seven-year-old girl, Annabelle Higgins and the Warrens then brought the doll back to their home and decided to lock it up in a glass cabinet for "safety" purposes.
Now as fate would have it, the Annabelle doll HAS ESCAPED! Or at least the Internet thought so.
Before you start freaking out and whipping out your prayer beads, do not worry as the rumour has been proved false. Snopes reported that the doll is still safely inside the Warrens' glass museum and hasn't moved because at the end of the day, it's just A DOLL!
This was further confirmed by the  Warrens' son-in-law, Tony Spera, who showed that the doll is still inside her container.
"I'm here to tell you something, I don't know if you want to hear this or not, but Annabelle did not escape. Annabelle's alive — well, I shouldn't say alive — Annabelle's here, in all her infamous glory. She never left the museum."
In case you wondered about how did this rumour actually start. Well, it came from the actress who played Mia in the first Annabelle movie, Annabelle Wallis.
While promoting her new film, The Silencing, Wallis also shared her experience of working with Tom Cruise in the "The Mummy". Wallis also talked about "running" in her interview, and the Hollywood Reporter included a video of some of the "escape" scenes from "The Mummy."  This piece got lost in translation as the part about Wallis running somehow got translated as Annabelle (the doll) escaping.
Thankfully, the doll didn't escape because let's be honest, does this year need any more hauntings?
Also read: 78-Year-Old Man Died Watching Annabelle Comes Home in the Cinema