Kepong Lady Attacked by 2 Snatch Thieves Back To Back, Netizens Blame Her For Not Being Alert
Having snatched thieves in our country is like culture, if you visit and didn't at least see or experience a snatching yourself, you may well have wasted your time here.
They say that 'lightning never strikes the same place twice', but Malaysian snatch thieving has become so intense that you can very well be snatched at twice.
A video by the We Are Malaysians Facebook group showcased a lady walking down a road at Metro Prima, Kepong when she was approached by a snatch thief. He grabbed at her as she fell to the ground, only to ride away, possibly empty-handed. But this woman's troubles were not over, as another motorbike stopped next to her, looking like he had seen what happened and was trying to help her.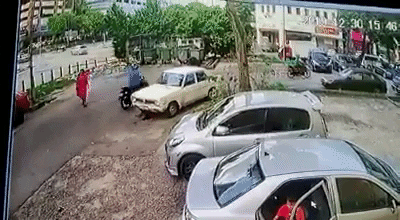 The lady, clearly still in a daze, looked like she was trying to figure out what was going on when the second rider got off his bike and grabbed at her repeatedly, probably stealing her necklace before riding away.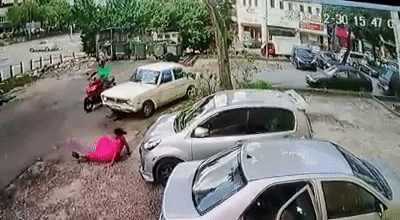 There is a possibility that both the snatch thieves were working together as they could be seen talking and sending hand signals at each other just before the incident happened.
Though, what's most unfortunate is that netizens have since taken to the video to leave their comments, saying the woman had deserved the incident because she should have been more alert and that she shouldn't have worn jewellery out.
This comment goes, "It's the lady's fault too, if you've already suspected something is amiss, run into a shop. Don't wait for the villains to snatch."
This comment says, "She's wrong in the sense where she was not alert."
This comment reads, "That's why, want to wear gold chains, who are you trying to show off to? If you don't wear gold chains, you can live."
I didn't know that wearing jewellery was prohibited on earth.
Plus what many don't understand is that, sometimes the jewellery seen could be associated with cultural marriages, such as how Indian women wear thali necklaces that symbolise their wedded status, just like how those practising the Christian faith wear wedding rings.
Hence, it's about time we stop blaming victims and see fault in those who CHOSE TO COMMIT CRIMES because if we keep justifying the actions of criminals, eventually, it's just become easier and easier for them to conduct their illegal activities.
For those interested in watching the full video, can do so here.
We are Malaysians' posting has since garnered over 975 shares.
What do you guys think? Is it the snatched thieves fault for committing crimes or is it the victims fault for creating potential crimes?
Let us know in the comments section. 
Also read: Horrifying Video Shows Dog Catchers In Johor Violently Kicking Dog During Capture