Have You Ever Wondered Why You Can't Stop Eating Popcorn During A Movie? Here's Why!
Despite the new normal SOPs placed in cinemas now, you know what hasn't changed? Our beloved concession stand with our favourite snacks and drinks that we try to buy as much as we can, because God-forbid we get a little peckish in a two-hour movie.
Of all the snacks in the concession stand, what's the crowd favourite? Yes! It's POPCORN!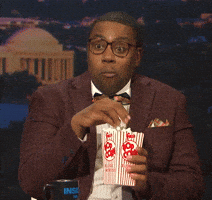 But have you ever wondered what makes popcorn so desirable when you're watching a movie? Well, before we get into all that, let's take a look into the history of popcorn.
Did you know that popcorn can be originated back to 3600 BC?! According to Gourmet Gifts Basket, even though common folklore indicates that the Native Americans showed the settlers how to make popcorn, there's no evidence to substantiate that.
In the 1890s and during the Great Depression, popcorn became extremely popular as it was extremely inexpensive, costing only 5 to 10 cents a bag, especially after the invention of the popcorn maker by Charles Cretor in the 1890s.
What makes popcorn so addictive?
Well, besides its obvious inexpensiveness, there's also some science behind why we can't stop eating popcorn. Stuart Hanson, a film historian at De Montfort University in Leicester even compared it to drugs!
"One of the great jokes in the industry is that popcorn is second only to cocaine or heroin in terms of profit."
Popcorn is made up of very strong aroma chemicals such as  6-acetyl-2,3,4,5-tetrahydropyridine and 2-acetyl-1-pyrroline that were used by other food industries to also make their food aroma more appealing.
So, remember when you're stuffing your face with popcorn even before the movie starts, it's not your fault, it's SCIENCE!
Popcorn's versatility
Another reason popcorn is so loved by most people is that it can be paired with so many flavours. Sweet, spicy, salty, savoury, you name it! My personal favourite is, of course, the classic caramel popcorn, but you can't deny that there's just something about GSC's kimchi popcorn that makes you keep reaching for more.
And if you want to make your own flavoured popcorn for your next movie night, you can watch this video!
EVERYONE CAN HAVE POPCORN!
Yes, besides being versatile, popcorn is also highly nutritional. Of course, this is before you add sugar and preservatives to it! A basic air-popped popcorn is naturally high in dietary fibre and antioxidants, low in calories and fat, and free of sugar and sodium.
If you're someone with dietary restrictions, you can enjoy the regular air-popped popcorn.
Do you wait for the movie to start before stuffing your face with popcorn, or do you have the self-control to wait? Let us know in the comments below!
Also read: TGV Cinemas Is Giving Out FREE Movie Tickets For One Hour Every Day Until 13 July!