Cruel Man Eats Live Monitor Lizard's Tongue, Raises Concerns On Infectious Diseases
Viewer discretion is highly advised.
There are health risks to eating raw animals, with the exception of a certain few such as seafood that can be eaten raw when prepared properly. But for a majority, cooking is required for safe consumption. Eating them live, though, is a whole other problem.
The Malaysia Animal Association took to their Facebook profile to showcase a man eating a monitor lizard's tongue while it is alive and the tongue is still attached to its body.
They wrote, "Eating a monitor lizard that was caught live is a violation of the welfare of wild animals under the Wildlife Conversation Act 2010 for brutally killing animals. This man's actions are cruel and worrying as it invites infectious diseases that can be dangerous due to germs and viruses from uncooked animals."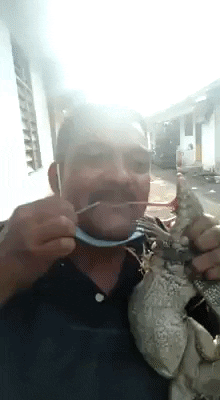 "The location and other information are not available, but the Malaysia Animal Association believes that he must have acquaintances, relatives, neighbours and employers that may know who this man is," they added.
After months of being in a global lockdown due to the consumption and treatment of live and raw animals, some of which that shouldn't be eaten at all, we should know better than to repeat certain mistakes.
What do you think about this? Let us know in the comment section. 
Also read: Cat Torn To Pieces Outside House In Ipoh, Cat Owners Reminded To Beware Of Wild & Stray Animals