Chaos Ensues As M'sians Obstruct Traffic Policemen From Towing Their Cars After They Parked Illegally
One of the biggest issues in Malaysia is parking. We've seen people fighting over parking spots, people standing in parking spots to 'chup' them, people double parking and people parking in spots that are not exactly meant for parking.
So, what happens when the authorities take action against those who park in places that are obstructive? You let them do their job.
The Info Roadblock JPJ/POLIS took to their Facebook page to showcase videos of a confrontation between some vehicle owners and traffic policemen. The vehicle owners had allegedly parked by the side of a road, in front of a pre-owned car shop, which caused the traffic policemen to tow the vehicles, much to the owners' dismay. What happens next can only be described as chaos.
They wrote, "Don't disturb civil servants from doing their jobs."
The person who recorded the video, on the other hand, had different opinions. As he recorded, he could be heard saying, "Look at them (traffic policemen), they're diligently doing their jobs, but they're bullying us. You can't park in front of these shops, you can't park in front of those shops (across the road), what are we supposed to do?"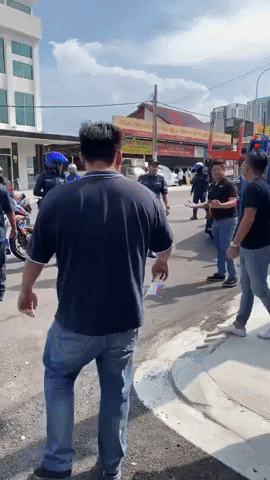 During the confrontation, one of the officers even lost his cool and started shouting at one of the vehicle owners.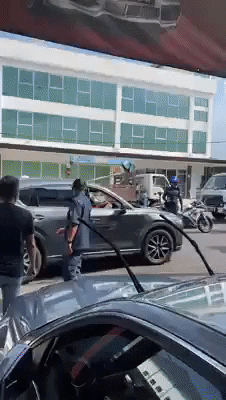 It is understandable to be upset that there's no proper parking spaces nearby, but there are better, more valid methods to solving these problems, such as taking it up with their respective city councils, compared to obstructing the tasks of the traffic policemen.
After all, it's not like the traffic policemen can all of a sudden create parking spots for you if you get upset.
We genuinely hope that they managed to resolve the problem in a civil manner, because honestly, shouting at each other just won't solve anything and you could get into more trouble for obstructing justice and the tasks of a public servant.
Also, are we the only ones concerned that they were all shouting at each other with no masks on?
What do you think about this? Let us know in the comment section. 
Also read: 19 Vietnamese Fishermen Detained in Kelantan After They Threw Diesel Bombs At Maritime Officers